What Are Causes of Bilateral Hip Pain?
Bilateral hip pain, pain distributed across both hips instead of being concentrated in just one, can be associated with a number of causes, including damage to the hip joint, degenerative joint conditions, inflammation, infection, structural changes to the muscles and tendons that support the hip, and referred pain from other areas of the body. People who experience this type of pain should see a medical professional so that he or she can conduct a complete evaluation and develop a treatment plan.
Injuries to the hip, including bruises, fractures, and dislocations, are all possible causes of pain, as is inflammation, irritation, strain, and infection. More physically active people are at increased risk of bilateral hip pain, especially as they age, as a result of physical activity. Likewise, people who spend a lot of time standing, as well as pregnant women, can develop pain in both hips because the joints may be strained.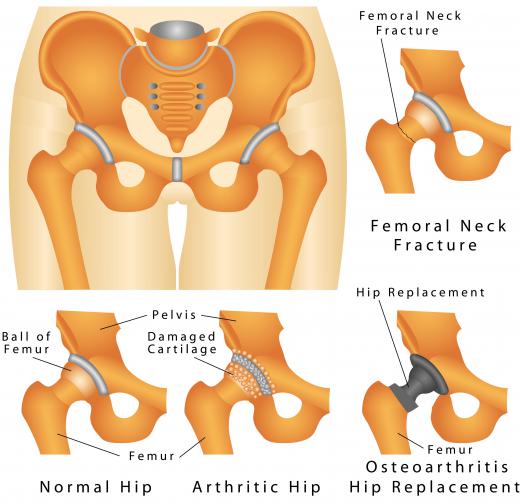 Other causes include conditions like osteonecrosis, arthritis, pseudogout, and chondrocalcinosis, all of which lead to damage inside the joint. The hip is a common location for joint disease, as it is a large and heavily used joint, so pain there is often one of the first signs of chronic joint disease. Nerve impingement or entrapment along the spine can also lead to hip pain by confusing signals sent to the brain. Chronic conditions like sickle cell anemia and hemophilia can also be associated with pain caused by joint damage.
The physical structure of the hips can lead to bilateral pain as well. In a condition called femoroacetabular impingement, the shape of the femur or pelvic bone leads to friction inside the hip, causing pain, often in both hips. Inflammation of the tendons and muscles around the hips, caused by overuse, injury, and other trauma, can also lead to bilateral hip pain, as can issues like snapping hip syndrome.
A healthcare professional can manually feel or palpate the hip for signs of obvious injury or anatomical anomalies. Medical imaging studies of the hips may be used to look for other indicators to explain hip pain, such as deposits of crystals in the joint. This information can be used to make recommendations for treatments, including medications, physical therapy, and, in some cases, surgery. Catching pain early will increase the probability of a good outcome, and it is important to get treated quickly for joint pain anywhere in the body for this reason.
While you are waiting for a diagnosis from your doctor, you should invest in pillows and other support items to make yourself more comfortable and prevent aggravating the problem. Many people like to use a mattress topper for hip pain. A good mattress topper can add extra firmness to your mattress and make it easier for you to sleep through the night. Other support items to invest in include wedge pillows, seat cushions, and comfortable shoes.
AS FEATURED ON:
AS FEATURED ON:

By: vonuk

Arthritis and injury to the hip may cause bilateral hip pain.

By: Nikki Zalewski

Physical therapy may be helpful for someone who is suffering from bilateral hip pain.

By: Rob

Medication may be prescribed to help alleviate pain associated with bilateral hip pain.

By: Alila Medical Media

Damage to the hip joint is one cause of bilateral hip pain.

By: LanaK

Pregnant women may experience bilateral hip pain.

By: WavebreakmediaMicro

Physical therapy may be necessary to treat bilateral hip pain.

By: ArTo

Damage to the hip joint may cause bilateral hip pain.