What are Lysine Benefits?
The essential amino acid Lysine helps to build protein in the body. Some lysine benefits include formation of collagen, a strengthened immune system, and helping the process of converting food to energy in the body. When it is used as a supplement, one of the primary lysine benefits is in the effective treatment and prevention of cold sores specifically and the herpes virus in general. Another of the reported lysine benefits is an improvement in athletic performance, though this has not been clinically proven.
Lysine is one of eight essential amino acids that are not produced by the body. A well-balanced, healthy diet can provide the body with all of the lysine it needs. In order to boost lysine benefits, it can also be taken as a supplement, either orally or as a topical cream.
The essential benefits of lysine include formation of collagen, strengthening of the immune system, and aiding in the process of converting food to usable energy. Collagen is found in tendons, cartilage, ligaments, and bones, all of which need lysine to properly absorb the calcium required to build these parts of the body. Lysine also helps the body to make the antibodies that boost the immune system. As an important part of the chain of events that turns food into energy, lysine is a precursor for the amino acid L-carnitine in the conversion process.
Taking lysine supplements benefits patients with cold sores, also known as herpes simplex labialis, by reducing the healing time and severity of the sores and preventing the growth of new sores. It is often prescribed as a general herpes treatment because it appears to stop the growth of the virus. Body builders also take the supplement, but it has not been proven that lysine benefits athletic performance
Side effects from taking lysine supplements are rare. They include diarrhea, abdominal cramps, and stomachache. Though not common, there has been one known instance of kidney disease that was connected with use of a lysine supplement. Animal studies have shown that taking high doses of lysine can cause gallstones. As not much is known about the effect of lysine on pregnant and nursing women, it is advised that they avoid taking the supplement.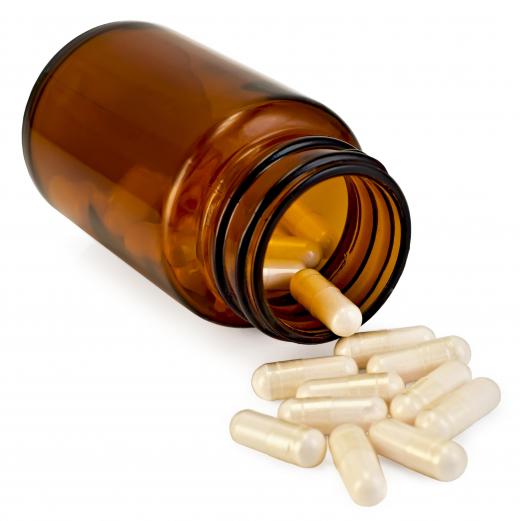 A diet without adequate lysine can lead to hair loss, anemia, low energy, poor appetite, and difficulties concentrating. Lysine deficiency can also lead to delayed growth and disorders of the reproductive system. Vegetarians are at a higher risk for lysine deficiency and must balance their diets to ensure proper consumption of all essential amino acids. Lysine can also be destroyed if food is cooked at an excessively high temperature.
AS FEATURED ON:
AS FEATURED ON:

By: Bioreg images

The structure of lysine.

By: uwimages

Lysine has been used to treat cold sores.

By: Steve Silver Smith

Lysine supplements can help people with cold sores.

By: kostrez

Though some bodybuilders take lysine supplements, it's not clear whether they are useful for improving athletic performance.

By: westfotos.de

Side effects of lysine supplements may include stomachache.

By: miya227

A diet without enough lysine can lead to anemia and low energy, among other symptoms.

By: Petro Feketa

A lack of lysine may lead to difficulty concentrating.

By: designua

Taking high doses of lysine can cause gallstones.