What are Lysine Side Effects?
Lysine is an essential amino acid. The body needs it in order to absorb calcium and maintain healthy hormone, enzyme, and antibody levels. As with most nutrients, if too much builds up in the body, it can cause side effects. Lysine side effects include stomach pain, diarrhea, and sometimes kidney trouble. Since lysine helps the body absorb calcium, too much lysine can lead to hypocalcaemia, or too much calcium in the body.
The body cannot produce lysine on its own. Lysine must be taken in through the diet. Fish and meat are natural sources of lysine. Dairy, legumes, and brewer's yeast also contain the amino acid. Most people get enough lysine through their regular diet to keep their bodies functioning normally. Dietary doses do not cause any known lysine side effects.
Lysine can be used to treat and prevent cold sores. Cold sores are sores on or near the mouth caused by the virus herpes simplex labialis. Pill form lysine can be bought over the counter at most drug stores. Lysine also comes as a topical cream for application directly onto the cold sore. Some people suffer side effects from lysine even when taken in proscribed doses. Side effects, however are most common if dosing regimens are not followed correctly.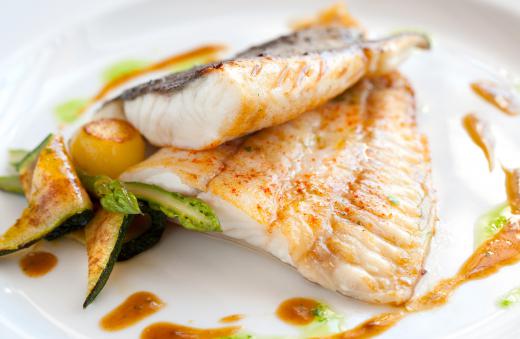 Few studies have been done to discover if lysine is harmful to fetuses and nursing babies. For this reason, women who are pregnant or nursing should avoid using lysine except under a doctor's supervision. Some preliminary studies have suggested that lysine may contribute to kidney disease. Patients with a history of or predisposition to kidney disease should talk to their doctor before using lysine.
The link to kidney disease may come from another of the lysine side effects. Lysine helps the body to absorb calcium. If the body has too much lysine, it may also absorb too much calcium. Symptoms of hypocalcaemia include kidney pain, nausea, and vomiting. Irregular heartbeat, low blood pressure, and depression are also possible side effects.
Lysine is sometimes also used as a weight-lifting or body-building supplement. One of the good lysine side effects is more efficient creation of muscle protein. All the same negative side effects apply to lysine as a weight-lifting supplement as to lysine as a treatment for cold sores. Body builders should be especially sure that they never take more than 15 grams of lysine, as overconsumption can cause serious side effects.
AS FEATURED ON:
AS FEATURED ON:

By: milazvereva

Lysine side effects may include stomach pain.

By: karelnoppe

Fish is a natural source of lysine.

By: marrakeshh

Meat is a natural source of lysine.

By: Gajus

Pregnant women should avoid using lysine.

By: Erick Skydive

Lysine may be used as a weight-lifting supplement.

By: Bioreg images

The structure of lysine.

By: uwimages

Lysine has been used to treat cold sores.

By: Steve Silver Smith

Lysine supplements might cause overly high levels in people with healthy diets.

By: kostrez

Lysine supplements may help reduce the symptoms of a herpes virus outbreak.

By: JPagetRFphotos

Diarrhea is one possible side effect of taking lysine.

By: 3drenderings

Lysine may cause kidney trouble in some people.