What Are the Common Causes of Salty Saliva?
The most common cause of salty saliva occurs when dehydration sets in from excessive perspiration or insufficient fluid intake. Medication used to treat certain conditions might also produce salty tasting saliva. Other possible causes of salty saliva include sinus infections, overproduction of tear ducts, diseases of the salivary glands, and vitamin deficiencies. Blood in the mouth from injury or disease might also produce saliva with a salty or metallic taste.
Patients using medication for thyroid conditions might experience salty saliva as a side effect of drugs. Chemotherapy drugs might also produce similar sensitivities to taste. Hundreds of medications can change the way taste is perceived by altering the way taste buds work. A doctor might prescribe alternate medication for patients who experience taste irregularities as a side effect.
Sinus infections with post-nasal drip might also make saliva taste like salt. Usually, once the infection clears up, saliva loses its salty flavor. Sjogren's syndrome defines a rare autoimmune disorder that damages glands that produce saliva and tears. When less saliva is produced, it may take on a salty taste. The most common symptom of this disease is dry mouth.
Overactive tear ducts might produce excessive tears that drain to the back of the throat and gives the sensation of salty saliva. Saliva and tears both contain sodium and chloride, the two elements that make up salt. Normal saliva does not taste salty because the body adapts to low levels of these chemicals. If the amount of sodium chloride in spit increases from medication or disease, salty saliva occurs.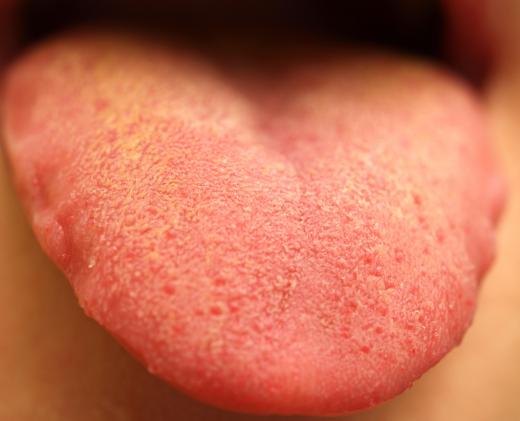 Saliva performs several important functions as a lubricant, antibacterial fluid, and digestive aid. It moistens food to make chewing and swallowing easier, and partially breaks down starch in food. Enzymes in saliva start the process of digesting fats in the diet. Saliva also activates taste buds to give different foods distinctive flavors.
This fluid is important as a lubricant in the mouth to protect soft tissue from abrasion by teeth. Chemicals in saliva make speaking easier, along with swallowing. It neutralizes acid that can damage tooth enamel and dilutes bacteria in the mouth. People who become dehydrated might notice a dry mouth and salty saliva as first symptoms. Increasing fluid intake typically resolves the problem.
A deficiency in zinc or vitamin B12 might produce salty saliva, but these disorders are considered rare. A doctor can check blood levels in patients who experience changes in taste or the amount of saliva. Healthy people produce up to 6 cups (about 1.5 liters) of saliva each day, with most of it swallowed.
AS FEATURED ON:
AS FEATURED ON:

By: bsilvia

Sinus infections can cause salty saliva.

By: Barbara Pheby

Increasing fluid intake takes care of salty saliva.

By: Adrian Costea

Saliva performs several important functions as a lubricant, antibacterial fluid and digestive aid.