What are the Different Types of Core Ab Exercises?
Virtually every movement the human body makes involves the use of the abdominal (ab) muscles. Without the abdominals holding the upper torso to the pelvis, the upper body would simply fall over backward. Because the abs are used to stabilize the upper body and core, there is a virtually limitless amount of core ab exercises that can be performed with, or without, weights. Some of the more common core ab exercises include crunches, sit-ups, squats, and deadlifts.
The most commonly performed core ab exercises are bodyweight crunches and sit-ups. A sit-up is performed by lying on your back, with your knees bent at a 45° angle. The hands are placed behind the head with fingers interlocked. The torso is raised off of the ground using the abdominal muscles, until the head is above the top of the knees and then the torso is lowered until the shoulder blades touch the ground. Typically, a number of repetitions are completed when doing sit-ups.
Crunches are performed almost exactly the same as sit-ups, except that the range of motion is limited to the middle part of the sit-up. The shoulder blades are raised off the ground and the head and shoulders are brought forward slightly and then back, without touching the shoulder blades to the floor. Both sit-ups and crunches are simple core ab exercises that will improve core strength, and can be performed almost anywhere with no equipment.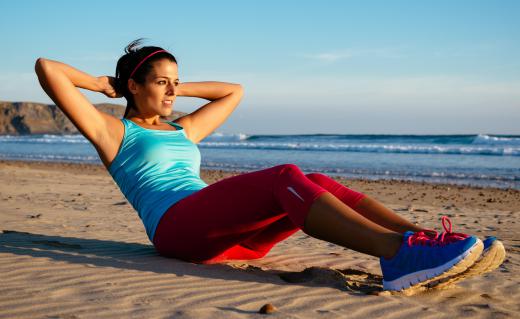 Other great core ab exercises include compound powerlifting exercises such as the squat and deadlift. Both the squat and deadlift rely heavily on the abdominals for support throughout the exercise range of motion. The front squat, which is a slight variation on the traditional squat, makes particular use of the abs due to the more upright position of the upper body. Any exercise that involves lifting a weight off of the floor will recruit the use of abdominals in at least a supporting function, which, in turn, strengthens the abdominal muscles. While the squat and deadlift generally involve heavy weights, the basic exercises can also be performed with smaller and lighter weights for beginners.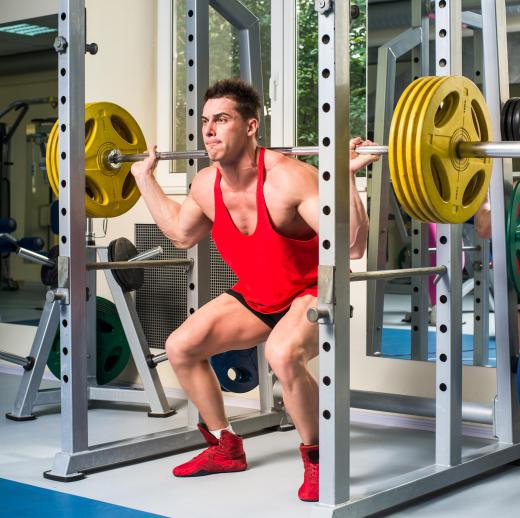 Remember that any time the upper body is used to move something, the abdominals are used to support the movement. As a result, although the aforementioned are traditional core ab exercises, anyone wishing to strengthen or tighten the abdominal muscles can easily improvise ab exercises with items commonly found around the house. Make sure to always perform exercises with the correct form, however, to prevent injury.
AS FEATURED ON:
AS FEATURED ON:

By: chaoss

Sit-ups, squats and deadlifts are core abdominal exercises that can strengthen and tone the stomach muscles.

By: Dirima

Sit-ups and crunches are simple core ab exercises.

By: gekaskr

Performing squats can help strengthen the thighs and other muscles of the legs and lower back.

By: theartofphoto

Crunches can be performed on exercise balls for added resistance.