What are the Effects of an Iodine Allergy?
An iodine allergy would be an immediate response to iodine on the skin or iodine injected in a contrast dye to take better X-rays. In general such exposure would cause immediate anaphylactic shock in those who are allergic. A patient might show very labored breathing and the tongue or throat might swell. Treatment is an injection with epinephrine to stop the histamine reaction.
An actual iodine allergy is extraordinarily rare. Some show signs of sensitivity to iodine with nausea, flushing, fever, or some labored breathing. In most cases, this sensitivity, particularly to injected iodine is labeled iodine allergy. This however, is something of a misnomer. Very few are actually allergic to iodine.
One of the reasons people feel they may have an iodine allergy is if they are allergic to shellfish or simply fish. Both shellfish and other fishes are a rich source of iodine, but often those allergic are not responding to the iodine in the fish.
However, if one has a shellfish allergy, or any allergy for that matter, there is a slightly increased risk of "iodine allergy." As compared to the person without an allergy to shellfish, people allergic to shellfish may show about a five percent greater chance of showing "iodine allergy" symptoms. However similar studies show that having any allergies increases the chance of being sensitive to iodine.
There are a few instances where iodine should not be injected. Iodine must be flushed out of the kidneys. Where a person's kidney function is significantly impaired, it may be difficult for the body to eliminate the iodine. Such people may show a reaction to the continued presence of iodine in their bodies, which is sometimes also labeled as "iodine allergy." When kidney function is impaired, kidney function tests are required to be certain injecting iodine will not cause difficulty for the patient.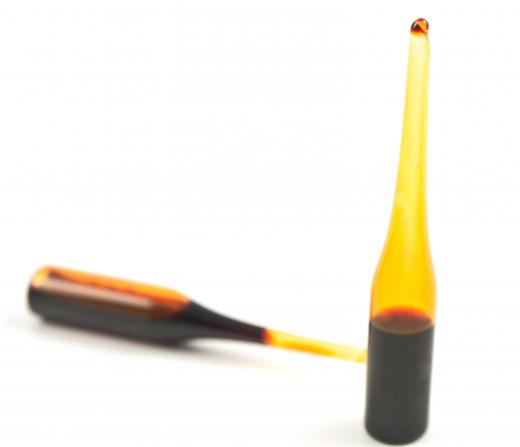 Iodine becomes synthesized in the body as iodide, and many who show "iodine allergy" show absolutely no reaction to iodide. This is good news as many topical antibiotic creams contain iodide. When an allergy is noted, this again is sensitivity rather than true allergic reaction. Usually patients will note a skin rash on areas where iodide is applied.
AS FEATURED ON:
AS FEATURED ON:

By: antonio scarpi

People who have a shellfish allergy have an increased risk of being allergic to iodine.

By: darkhriss

Allergies may manifest as skin rashes.

By: ksena32

Iodine is important to thyroid health, and allergic reactions to it are very rare.

By: Coprid

Topical antibiotics often contain iodide, a synthesized version of iodine, which most people with iodine allergies have no reaction to.

By: Monkey Business

It is important to seek emergency medical care if symptoms of anaphylaxis develop.