What are the Most Common Causes of a Dry Mouth and Tongue?
There are a variety of possible causes of a dry mouth and tongue. Among the most common are side effects of things like medication use, illness, or even treatments used for a medical condition. Dehydration can also cause the mouth and tongue to feel dry. Additionally, lifestyle choices may contribute to these symptoms. For instance, smoking and leaving one's mouth open while breathing may contribute to the feeling.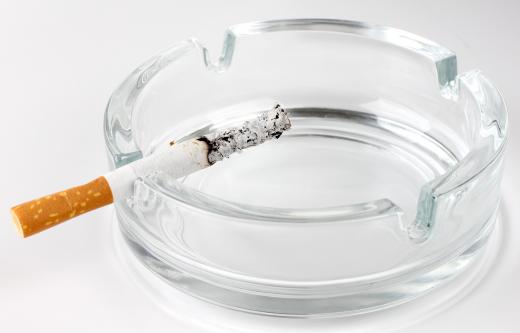 In many cases, a dry mouth and tongue are caused by medication use. Many medications cause these symptoms as a side effect, including those used to treat depression, hypertension, epilepsy, and Parkinson's disease. Drugs used in the treatment of asthma, upper respiratory infections, upset stomach, nausea, diarrhea, and anxiety may cause dry mouth as well. Even medications used in making people more comfortable while they are suffering from the common cold may contribute to it.
There are also many health-related conditions that may cause a person's mouth and tongue to feel dry. For example, sleep apnea, asthma, high blood pressure, acquired immunodeficiency syndrome (AIDS), and cystic fibrosis may make these symptoms more likely to develop. A person may also be more prone to the symptoms because of conditions such as anemia and rheumatoid arthritis. Likewise, some stroke sufferers may be more likely to develop dry mouth and tongue. Dehydration is also a frequent cause of these symptoms.
Sometimes, medical treatments cause these symptoms as well. For instance, there are some treatments that may damage a person's salivary glands and cause his mouth and tongue to be drier than normal. This can happen when a person is undergoing medical treatment for cancer, such as radiation treatments and chemotherapy. The result may be a dry mouth that is caused by a decrease in the amount of saliva that is produced.
An individual may sometimes contribute to his own development of dry mouth and tongue because of his lifestyle choices. Smoking cigarettes and chewing tobacco may make a person more likely to develop these symptoms or may at least make already-developed symptoms worse. A person may also dry out the mouth and tongue by breathing with his mouth open for a long period of time.


By: Ivan Montero

A tongue.

By: Николай Григорьев

Smoking is a common cause of a dry mouth and tongue.