What Are the Signs of an Azithromycin Allergy?
Azithromycin is a macrolide antibiotic prescribed for the treatment of certain bacterial infections, including laryngitis, pneumonia and some sexually transmitted diseases. As like any other medication, azithromycin can cause an array of side effects, including those associated with an allergic reaction. Signs of an azithromycin allergy include difficulty breathing, dizziness and itching. In addition, hives or rash, and swelling such as that in the face, throat or tongue, are also signs of an azithromycin allergy. In general, it is rare for a patient to suffer from a severe azithromycin allergy, but if an allergic reaction surfaces, he should speak with his doctor about the appropriate course of action; since azithromycin is a type of medication that takes awhile to completely leave the body, it is not unusual that signs of an azithromycin allergy can continue to occur even after a patient stops taking the medication.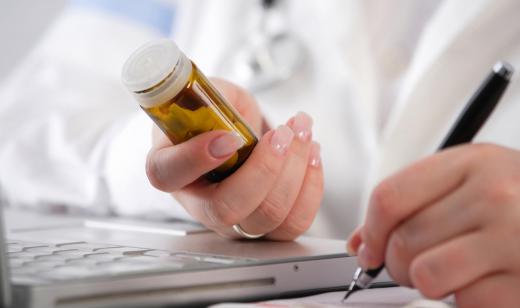 Besides an allergic reaction, other side effects that might occur from taking azithromycin include diarrhea, upset stomach and vomiting. In addition, a patient can also suffer headache, insomnia and problems hearing, tasting or smelling. While these side effects are generally mild, they can become severe and thus prompt the affected patient to seek medical attention. On the other hand, for serious side effects, a patient should seek immediate medical attention. Examples of serious side effects include abnormal heartbeat, bloody or watery diarrhea, and jaundice.
While azithromycin can cause side effects on its own, when the medication interacts with certain other drugs, this can affect the occurrence or severity of the side effects. Sometimes, drug interaction can also affect the effectiveness of the medication. It is important then, that a patient speaks with his doctor about any other medical conditions he has, or medications he is currently taking, before taking azithromycin. Medications that can interact with azithromycin include antacids that are aluminum or magnesium-based, anticoagulants and calcium channel blockers. In addition, human immunodeficiency virus (HIV) medications and other antibiotics can also interact with azithromycin.
After a doctor is aware of his patient's medical history and current medications, he will prescribe the correct dosage of azithromycin. Dosage will vary for different people depending on their specific condition, but each patient should listen to his doctor and follow his prescription exactly. This includes taking the medication for the entire length of time prescribed, even if symptoms of the bacterial infection go away. Finishing the prescription is important because even though the symptoms disappear, the infection might not be clear yet. In addition, if the infection is not clear, the bacteria can develop a resistance to the medication.


By: Dmitry Naumov

Azithromycin can be used to treat tonsillitis in children.

By: emiliau

Drug interactions can change the way azithromycin works, so it is important patients discuss all other medications with their doctors.

By: Syda Productions

Azithromycin for acne is generally administered via oral tablets.

By: lightwavemedia

Non-allergic side effects of azithromycin include diarrhea and vomiting.

By: Sandor Kacso

Side effects of azithromycin may include headache.

By: Deyan Georgiev

Warning signs of an allergic reaction may include a swollen tongue.

By: tiplyashina

Azithromycin side effects may include insomnia.

By: pio3

Azithromycin is used in some antibiotics prescribed to treat sexually transmitted diseases.