What Are the Symptoms of a Bowel Infection?
Symptoms of a bowel infection may vary from person to person, but one of the main ones is intestinal pain. Fever and chills may also be present with a bowel infection. Many patients may experience diarrhea and nausea with a bowel infection. Symptoms of a bowel infection in infants and toddlers may include irritability and fussiness as well.
A bowel infection is typically caused by a virus or bacteria in the intestinal tract. When a person develops a bowel infection, inflammation may cause cramping, bloating, and diarrhea. Rectal bleeding can also happen in cases of intestinal infection. Although there are several common symptoms of a bowel infection, some patients may only exhibit one or two symptoms.
When a person contracts an intestinal infection, he may experience loss of appetite. When a bowel infection causes diarrhea or vomiting, this can lead to dehydration. Symptoms of dehydration from a bowel infection are extreme thirst and dryness of the mouth. A headache that is present with an intestinal infection may also indicate signs of dehydration. It may be difficult to recognize the symptoms of dehydration in infants and young children, although decreased urination is generally an indication.
If a bowel infection lingers, weight loss may also occur. Although weight loss is not common symptom of a bowel infection in adults with bowel infections, it can be serious in infants and children. Any loss of weight in a child should be reported to a pediatrician for evaluation.
Bowel infections may occasionally be caused by a parasite. When this occurs, symptoms such as constipation and intestinal blockage may occur. When the intestines become blocked, toxic build up can make a person seriously ill. An intestinal blockage may lead to septicemia, which causes bacteria to circulate throughout the blood. Septicemia can damage the respiratory system and be life threatening if not treated promptly.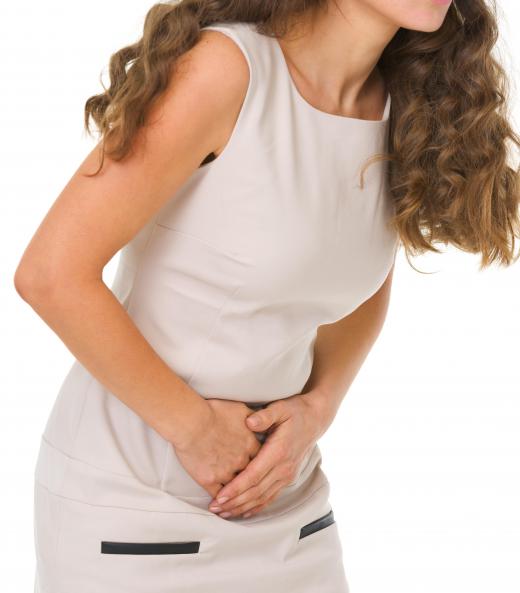 Some medical experts believe that certain factors can make some individuals more susceptible to contracting a bowel infection. For instance, stress may contribute to a weakened immune system, making a person more prone to illness. A large percentage of the immune system resides in the intestinal tract, which is why maintaining a healthy digestive system can help prevent bowel infections. Some medical experts also believe replenishing healthful bacteria in the digestive tract can prevent bowel infections. This can be accomplished by consuming foods that contain live cultures, or taking a dietary supplement containing probiotics.
AS FEATURED ON:
AS FEATURED ON:

By: Imcsike

Fever and chills may accompany a bowel infection.

By: milanmarkovic78

Stress may make individuals susceptible to developing a bowel infection.

By: Alliance

Intestinal pain is a common symptom of a bowel infection.

By: michaeljung

Bloating is one possible symptom of a bowel infection.

By: koszivu

An untreated bowel infection may lead to dehydration.