What Causes a Dilated Bile Duct?
The bile ducts are tubes that transport bile from a person's liver to the gallbladder and small intestine. A dilated bile duct, or one that is enlarged, typically occurs when there is an obstruction blocking the flow of bile. When the bile cannot pass through a particular duct, it builds up, and the structure becomes distended. Most commonly, the obstruction is caused by a gallstone, but cysts or tumors are also possible. Surgical trauma and inflammation can also cause dilation.
The gallbladder stores bile produced by the liver. Sometimes, if the bile contains too much cholesterol, bile salts or bilirubin, pebble-like substances called gallstones can form. Gallstones can be as small as a grain of sand or as big as a golf ball. They can travel from the gallbladder into the bile ducts. If the stone is large enough, it can become lodged there, blocking the flow of bile and causing a dilated bile duct.
Cysts are fluid-filled masses of tissue that can occur in various places in the body. On occasion, a cyst can form in a bile duct, most often in the common bile duct. Depending upon the size and location of a cyst, it could impede the flow of bile.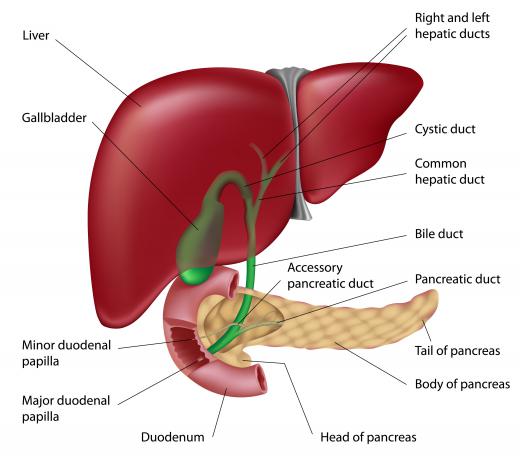 When a tumor occurs in the bile duct, it is called a cholangiocarcinoma. Whether the tumor is benign or malignant, it can block the bile duct. As with a cyst or a gallstone, if the tumor is large enough to cause a complete obstruction, the bile will not be able to travel through the duct. This, in turn, will cause the bile duct to become dilated.
Surgical trauma can also cause a dilated bile duct. When a person experiences a cholecystectomy or other surgery in that area, the bile ducts can have residual inflammation. As a result of the surgery, the ducts might become swollen and enlarged to some degree. Typically, the distention that results from surgical trauma is expected and is not significant enough to cause serious issues such as a blocked bile duct. On occasion, though, inflammation and distention caused by surgical trauma can create complications warranting further attention.
A person experiencing symptoms of a dilated bile duct, such as pain, nausea, jaundice, and fever, should promptly seek medical attention. The cause of a distended duct can usually be determined through an ultrasonogram, computerized tomographic (CT) scan, or a magnetic resonance cholangio-pancreatography (MRCP). Another type of test, called an endoscopic retrograde cholangio-pancreatiogram (ERCP) can often be used not only to diagnose the cause of the dilation but to repair it as well.
AS FEATURED ON:
AS FEATURED ON:

Liver anatomy, including the bile duct.

By: Kot63

Surgical trauma can also cause a dilated bile duct.

By: designua

A gallstone can become lodged in the bile ducts, blowing the flow of bile and causing a dilated bile duct.

By: roblan

Gallstones, which are hardened deposits of bile, are often a cause of blocked bile ducts.

By: acherst

An ultrasound may be used to investigate gallstones.

By: lirtlon

Consuming peanuts on a regular basis may help prevent gallstones, which may block bile ducts.