What Causes Itching Hands and Feet?
Itching hands and feet may be caused by a reaction to something in the diet or may be due to a more serious condition, such as diabetes. Vitamin toxicity may also cause itching skin in some people. Multiple factors may contribute to skin discomfort, but improper hydration and coming in contact with allergens in the environment are among the most common causes.
Itching is characterized by an irritation or disturbance on the skin, which causes one to almost instinctively rub or scratch the skin's surface. Itching skin is annoying and may be caused by a minor or major condition. It is common, however, and is something that most people experience, to some extent, on a regular basis.
Some people experience dry skin as the result of a health condition. A few of these conditions include psoriasis, dermatitis, and diseases affecting the liver and kidney. Itching hands and feet, as well as other irritated parts of the skin, may occur with any of these conditions. Itching may also occur as the result of treating these conditions with certain medications that are known to also cause skin irritation.
Individuals allergic to certain food products may experience itching in the hands and feet after eating these foods or coming in contact with them. Other parts of the body may itch for several minutes or hours after contact with a certain food, as well. While this symptom sometimes disappears after a brief period, an allergic reaction to food may also cause hives, throat constriction and respiratory distress depending upon the nature of the food allergy.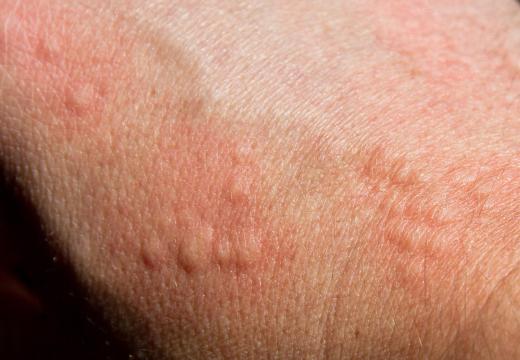 Diabetic patients are often afflicted with this symptom. Diabetic itching is primarily due to nerve damage caused by elevated blood glucose levels. The itching sensation is often also accompanied by paresthesia and numbness, as well as pain in the hands, feet and legs.
People with a particular vitamin deficiency generally treat this condition with vitamin supplements. In excess, however, some of these can cause toxicity, which may result in itching hands and feet, as well as itching in other parts of the body. This type of reaction is especially common when too much vitamin A or vitamin K enters the bloodstream.
One of the most common causes of any itching is coming in contact with an irritant or allergen in the environment. Certain plants, chemicals and fibers may naturally cause itching when allowed to touch the skin. A few of these include grass, poison ivy, or may include household soaps and other cleaning agents.
Another very common cause is dry skin. When the skin lacks hydration, it is easily irritated and begins to itch. Moisturizing the skin's surface is usually enough to temporarily treat the itch, but hydrating the body by drinking water, as well as eating raw fruits and vegetables is also necessary to avoid future episodes of dry skin and itching.


By: Africa Studio

Many people get itching hands from dryness, which can be remedied with a good moisturizer.

By: goodluz

Drinking water might help relieve itching hands and feet.

By: acnaleksy

Food allergies may cause itching feet.

By: Jürgen Fälchle

Hives typically stem from an allergic reaction.

By: nebari

Diabetes may cause itching hands and feet.

By: eyetronic

Dermatitis can cause itching hands and feet.