What do Fingernail Lines Indicate?
The simple answer to what fingernail lines may indicate is that they are very often insignificant. This is especially true when it comes to the vertical lines on the nails, which may start at or just above the moons or cuticles and extend upward to the nail tips. Horizontal fingernail lines may be more suspect, but even here, the lines may be nothing and could be a sign of age or behaviors. There are some worst-case scenarios, on the other hand, that may be worth considering.
Most people have vertical fingernail lines and these can be light or have grooves. Typically as people age, grooves get a little deeper, but this doesn't indicate health issues. Yet if the lines or the nails surrounding them get yellow in color and if the nails seem thick, this might suggest a fungal infection. Should this condition persist, it might be wise to a see a doctor for guidance. Yellowing nails may also be caused by behaviors like smoking, but thickening nails or uneven growth might mean a fungal infection is present.
Under many circumstances, horizontal lines are a little more unusual. These lines can still simply represent different types of growth, and they're a little more common on people's nails as they age. Horizontal lines can be fairly ordinary on people who regularly get their nails manicured too.
This doesn't mean horizontal or transverse fingernail lines are always benign. In fact, white ones that are in pairs may be Muehrcke lines, which have been shown to indicate many different disease or changes to health. Muehrcke lines can simply be signs of certain treatments undergone. They're common on the nails of those who are being treated with chemotherapy, for example.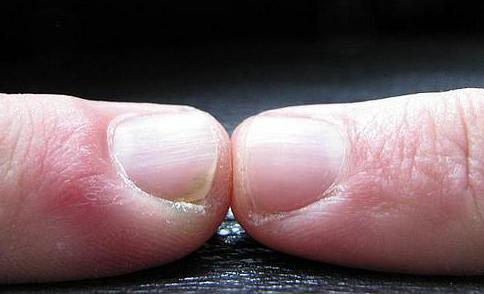 In absence of this treatment, white transverse fingernail lines in pairs might suggest extremely low albumin levels, or some forms of cancer. They can also be associated with malnourishment, certain forms of kidney disease, and some illnesses that could affect the liver. As described, the lines are usually present on the toes too, and don't occur very often on the thumbs. A single fingernail with horizontal lines is not likely to be an example of Muehrcke lines.
One other condition that is associated with horizontal fingernail lines is arsenic poisoning. Fingernails may be lined and ridged in transverse fashion, and the lines are usually described as white in color. Again, this may not mean anything, but it has been noted as a symptom of long exposure to arsenic. If people work around chemicals or have any reason to suspect any form of arsenic consumption, this is fairly easy to test with the help of a physician.
Fingernails are extremely important and they can say much about human health. Doctors regularly examine nail beds to check for proper nourishment and even to assess cardiac function. The degree to which any lines on the nail are significant may vary based on the individual's health status. Should people be concerned about unusual lines, it makes sense to check with a medical practitioner for guidance.
AS FEATURED ON:
AS FEATURED ON:

By: Farina3000

Most of the time, fingernail lines are normal and do not indicate underlying health issues.

By: Steven Damron

The parallel lines that run from the base to the tip of a fingernail become more prominent with age.

By: Andriy Bezuglov

Horizontal lines can be fairly ordinary on people who regularly get their nails manicured.