A penectomy is the surgical removal of part or all of the penis. This surgery may be required in order to remove cancerous tissue in the penis, or it can be elected as part of a sex reassignment surgery. In rare cases, a penectomy is performed accidentally during circumcision.
Penectomy, or penis amputation, is a common treatment for penile cancer. If at all possible, the surgeon will aim to leave as much of the penis intact as possible. A surgery in which only part of the penis is removed, usually just the tip, is called a partial penectomy and allows the man to continue urinating standing up and have a full, though changed sex life. A man with a partial penectomy can still get an erection and ejaculate, though the most sensitive part of the penis is missing. Still, sex life after a penectomy can be challenging and benefits from open lines of communication between partners and talking to a sexual support therapist.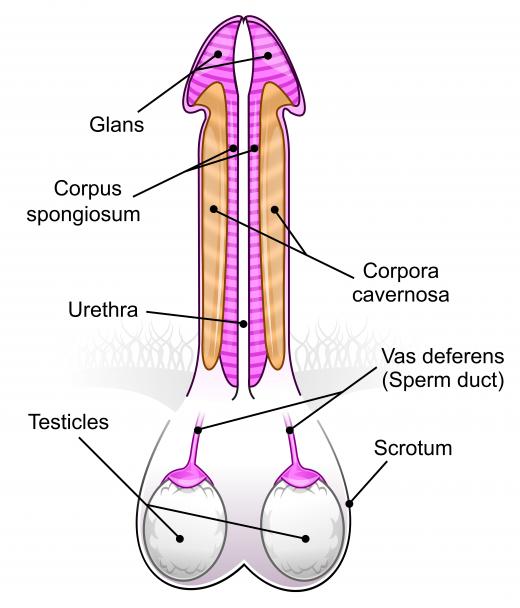 During a radical penectomy, the entire penis, from the tip to inside the pelvis is removed. Cancer patients may also have the lymph nodes in the groin extracted to deter the spread of cancer into the rest of the body. Men who have this surgery will pass urine through a new opening for the urethra, so their regular bathroom habits may change. These men may also have to experiment to find ways to a satisfying sex life post-operation.
Penile cancer is uncommon in South America and Africa and very rare in Europe and North America. The cancer is typically a squamous cell carcinoma originating in the glans, a vascular section in the head of the penis, or foreskin. Symptoms include a lump on the penis, redness, irritation, or a sore on the penis.
Depending on how much of the penis is affected, the patient may be able to just have the tumor and a small amount of the healthy surrounding tissue removed, but amputation is the most effective treatment. The patient will also receive radiotherapy as a security against the cancer's spreading. Rare but possible complications of partial or total penectomies include persistent penis discomfort, increased sensitivity, decreased sensitivity, difficulty maintaining an erection, and infection.
Sometimes, but not usually, penis amputation is part of a sex reassignment surgery called vaginoplasty for trans women. The more common surgery is called penile inversion, in which just the erectile tissue is removed, while the glans remains intact and is sometimes used to construct a clitoris. The rest of the penis is inverted into the body to create a simulated vaginal canal. The other type of vaginoplasty, colovaginoplasty, does require penectomy and uses a piece of the colon to simulate the vaginal canal. This is a much riskier surgery and doctors prefer not to perform it if there is any other alternative.
Life After a Penectomy
After a penectomy as a result of cancer, recovery is mental, physical, and emotional. The most important aspect of healing is accepting the change in your body and adapting to it. The best thing one can do for yourself during this time is to be patient, take one day at a time, and talk to your doctor or a counselor if you're struggling.
Understanding the Mental and Emotional Recovery of a Penectomy
A penectomy can be a shock to your system, both mentally and emotionally. It's normal to feel overwhelmed, anxious, or depressed after surgery. Some men also experience grief, anger, or a sense of loss. It is always helpful to talk to a counselor or therapist specializing in cancer patients. They can help you cope with your feelings and adjust to your new body.
You may also benefit from joining a support group for men who've had a penectomy. Joining a designated support group with others who have undergone the same procedure or one similar can prove helpful and therapeutic.
Physical Recovery Will Take Time
After a penectomy, you'll need to take things easy for a few weeks as your incision heals. In some cases, drains help remove excess fluid from the area. Your doctor will provide support and detailed instructions on caring for your drains and aiding the healing process.
You may also have a catheter, which is a tube that helps drain urine from your body. The catheter will get removed when your incision has healed, and you can urinate on your own. 
You'll likely experience some pain and swelling after surgery. Your doctor will prescribe medication to help manage these symptoms. It generally takes four to six weeks for the incision to heal completely.
Gender Reassignment Recovery Brings On Many Challenges
If you've had a penectomy as part of gender reassignment surgery, your recovery will be different. Depending on your treatment choice, you may have multiple surgeries, such as vaginoplasty, orchiectomy, or phalloplasty. 
You'll also need to takehormones for the rest of your life. These hormones will help your body adjust to the changes from surgery and feminize your features. Feminizing hormone therapy helps enhance sexual pleasure and quality of life by softening the skin and decreasing body hair.
Feminizing hormone therapy also helps men prepare for phalloplasty by using anti-androgens to block male hormones. Estrogen and Progestin are common feminizing hormones that help round the hips, redistribute body fat, and promote breast growth.
The recovery process after gender reassignment surgery can be long and difficult. It's crucial to have a support system in place to help you through it. Talk to your doctor about any concerns you have, and follow all your postoperative instructions.
Risk Factors of Penile Cancer
There are manyrisk factors that may increase your chances of developing the disease, which can result in needing a penectomy. These include:
HPV Infection: Human papillomavirus (HPV) is a sexually transmitted infection that can cause changes in the cells of the penis, leading to cancer.
Smoking:Cigarette smoking is a significant risk factor for penile cancer. The chemicals in tobacco alter the DNA.
Phimosis:Phimosis is a condition in which the foreskin is so tight that it can't detract from the head of the penis. Phimosis makes it challenging to clean the area and increases the risk of HPV infection.
Age: Penile cancer is most common in men between the ages of 50 and 70.
Race: Penile cancer is more common in black men than in white men.
Poor Hygiene: Poor hygiene can increase the risk of HPV infection and other infections that can lead to penile cancer.
Having Multiple Sexual Partners: Men who have had many sexual partners are at an increased risk of HPV infection and other sexually transmitted infections.
Having a Weakened Immune System: Men with HIV/AIDS or other conditions that break down the normal functions of the immune system also have an increased risk of penile cancer.
UV Light Exposure: Exposure to UV light, such as sunbathing, can increase the risk of penile cancer.
If you have a family history of penile cancer and any of these risk factors apply, you must talk to your doctor so they can monitor you closely for signs of cancer.
AS FEATURED ON:
AS FEATURED ON:

By: isyste

A penectomy involves the removal of part or all of the penis.

By: naypong

A penectomy, surgical removal of all or part of the penis, may be required in order to remove cancerous tissue.

By: andreusK

Having a sex life after a penectomy can be challenging.

By: Tyler Olson

A penectomy may be the first step in a sex reassignment surgery.