What is an Air Cast Boot?
When a person breaks a foot, ankle, or lower leg, they have the option to get the injured extremity sealed in a hard cast, or with their doctor's approval, they can opt for an air cast boot. An air cast boot encases the injured joint or foot inside an air cushion, which is in turn encased in a hard plastic shell. As an alternative to a traditional cast, the air cast boot promotes faster healing time, more mobility, and the ability to remove the cast so the injury can be exposed to fresh air or for convenience when showering. The boot is also more commonly used as a transition between a hard cast and no cast at all.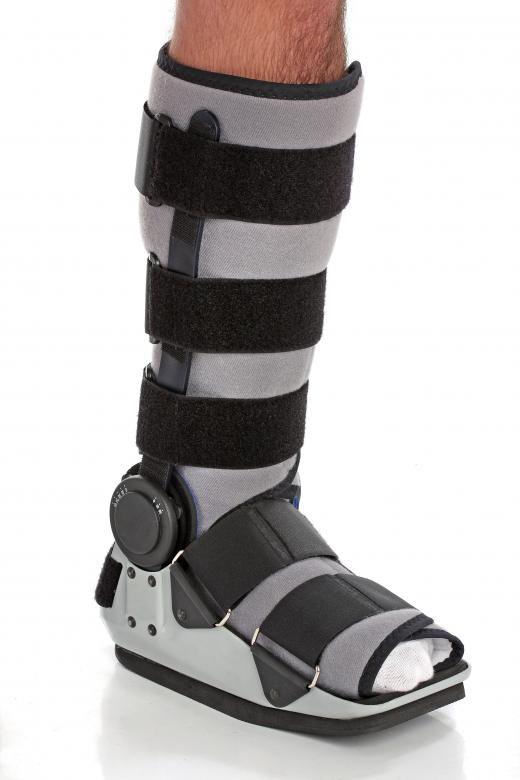 A patient must first and foremost check with their doctor to see if the air cast boot is the right choice for them. The boot should only be used as an alternative to a hard cast for minor injuries; otherwise, it can be used after a hard cast is taken off and before the ankle or foot is strong enough to bear weight on its own. The air cast boot allows a patient to slowly and safely promote strength in the foot or ankle, thereby allowing them to put weight on the injury more quickly after the injury occurs. It does so by keeping the foot and ankle at a constant angle but allowing a limited amount of movement within the cast, promoting mobility.
The air cells within the air cast boot are adjustable and can be made stiffer or softer by using a bulb pump. The hard shell of the boot keeps the ankle or foot in place, thereby reducing the possibility of re-injury caused by excessive movement. The hard shell also protects against external impacts. The sole of the boot is typically coated with non-skid material for safety and stability. By adjusting the boot using the Velcro® straps and the adjustable air cells, a patient can also reduce the risk of suffering from edema.
Depending on the severity of the injury, some patients may be able to use the air cast boot without crutches, thereby freeing their hands from the constraints of the crutches. Before attempting to walk without crutches, however, a patient should consult a doctor to prevent re-injuring the foot or ankle. The air cast boot is custom-fit to a patient, which increases comfort and the likelihood that the injury will heal correctly.


By: klickerminth

Air cast boot may be used with crutches.

By: Julián Rovagnati

An air cast boot is custom fit.

By: eAlisa

An x-ray can be used to examine broken bones.

By: Olena Talberg

Unlike the traditional foot cast, an air cast boot can be removed.

By: Fotoluminate LLC

In some cases, patients must be casted for several weeks before an air boot is used.