What Is Coffee Ground Vomiting?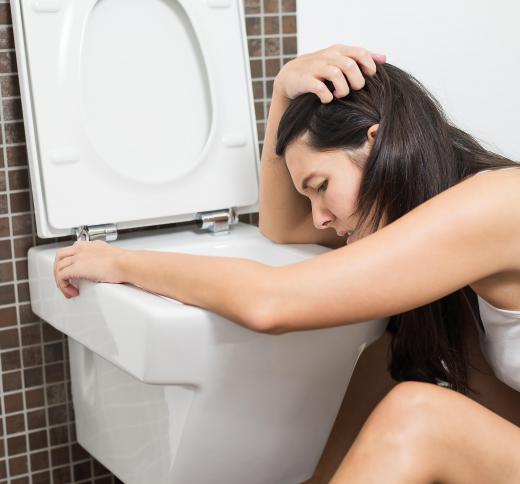 Coffee ground vomiting is a term for dark-colored vomit containing blood. Generally associated with ulcers, tears, and tumors within the digestive system, treatment is dependent on the underlying cause. Individuals experiencing this symptom may be treated with medication. Rarely, blood transfusion or surgery may be necessary if the vomiting and bleeding is severe.
Peptic ulcers are the most common cause for coffee ground vomit. Resulting from excessive acid production within the digestive tract, peptic ulcers erode tissues, causing ulcers to form. This particular type of vomit is considered a severe symptom. If left untreated, there is a risk of significant blood loss.
This symptom can also be caused by a Mallory-Weiss tear, which is a perforation within the digestive system. Tears may occur in the esophagus or upper digestive tract, causing it to bleed. Individuals with a Mallory-Weiss tear will often produce dark vomit due to the excessive internal bleeding.
In some cases, coffee ground vomiting can be a sign of a stomach tumor. Some forms of stomach cancer can interfere with mucus production within the stomach's lining, leaving the tissue vulnerable to inflammation. Extensive inflammation causes bleeding, and if it is excessive, the individual may expel the blood when vomiting.
The cause of this type of vomiting is usually discovered with imaging tests. X-ray and endoscopic technology are most commonly used to determine the source of bleeding. Blood analysis may also be conducted to check for markers that indicate an infection or other abnormalities. If imaging and laboratory tests prove inconclusive, exploratory surgery may be performed.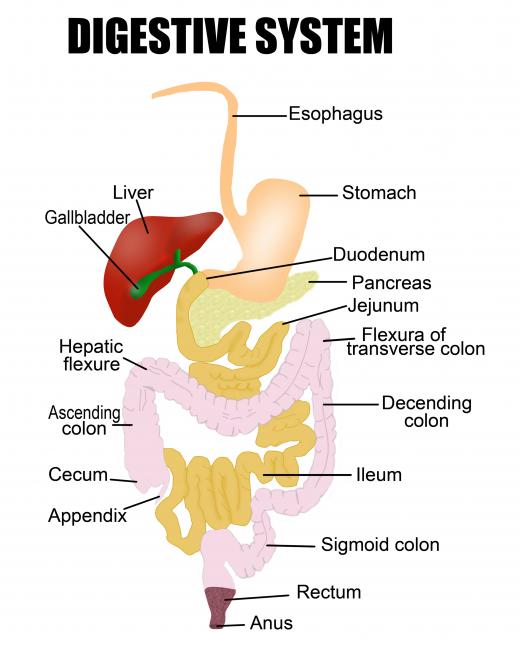 Once the cause for the vomiting is discovered, medications are usually given to heal any ulcerated tissue and ease inflammation. Drugs designed to inhibit stomach acid production and neutralize existing acid are commonly prescribed for peptic ulcers. If a Mallory-Weiss tear is found, the individual is given an acid-suppressing drug to allow the tear time to heal on its own. For individuals with stomach cancer, similar drugs may be given in combination with their existing, anticancer treatment regimen.
Alcoholism, Helicobacter pylori infection, and polyps are among several risk factors for conditions associated with coffee ground vomiting. Individuals with a history of certain conditions, including stomach cancer, are considered at greatest risk for this problem. Regardless of the cause, expelling blood when vomiting is considered a serious situation requiring prompt medical attention.


By: Lars Zahner

A digestive system perforation can cause coffee ground vomiting.

By: sumnersgraphicsinc

Coffee ground vomiting most often occurs in individuals suffering from stomach ulcers.

By: JackF

An endoscopy may need to be performed to determine the cause of coffee ground vomiting.

By: Balint Radu

Coffee ground vomit is often a sign of ulcers, tears and tumors of the digestive system.

By: designua

Peptic ulcers occur as a result of excessive acid production within the digestive tract.

By: joshya

Helicobacter pylori infection is a risk factor for conditions associated with coffee ground vomiting.

By: pathdoc

Severe coffee ground vomiting may require a blood transfusion.