What Are the Most Common Causes of Brown Vomit?
Brown vomit is usually caused by eating brown food, but it can also be a sign of bile in the regurgitated stomach contents. Gastrointestinal bleeding can also appear brown in vomit. Rarely, a person might throw up brown material because of severe constipation or an intestinal blockage. The treatment for brown vomit depends on the cause, but most cases resolve themselves without medical care. Excessive or frequent episodes can signify a severe medical condition, and one should immediately report to a health care professional.
Food and Bile
The most common cause of brown vomit is throwing up brown food or several foods that look brown when mixed or with bile. For instance, red and green foods could look brown if eaten together and then vomited, as could very dark red foods if mixed with bile.
Foods high in brown pigments include coffee, tea, cocoa, soy sauce, red wine, and cola drinks. Fruit juices and cordials with added coloring can also cause brown vomit.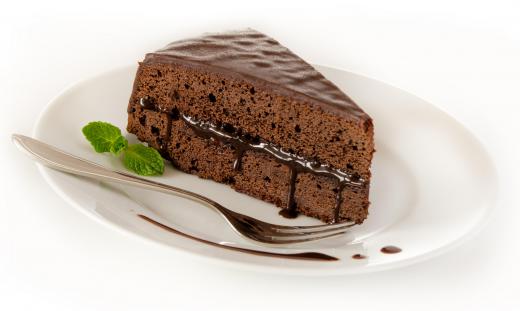 Additionally, though bile is usually yellow or greenish, it can also look brown when thrown up. This is particularly true if it's coming from an empty stomach; people often get greenish-brown or very dark yellow vomit if they throw up repeatedly. Most of the time, this type of vomiting is caused by something relatively benign, like food poisoning, and will resolve on its own after a few days with no other treatment than a bland diet and lots of water or sports drinks.
Food Poisoning
Food poisoning is usually the result of eating contaminated food, which can cause inflammation of the gastrointestinal tract. A fever sometimes accompanies it. If you have food poisoning, vomit may be brown due to the food or small traces of blood.
Blood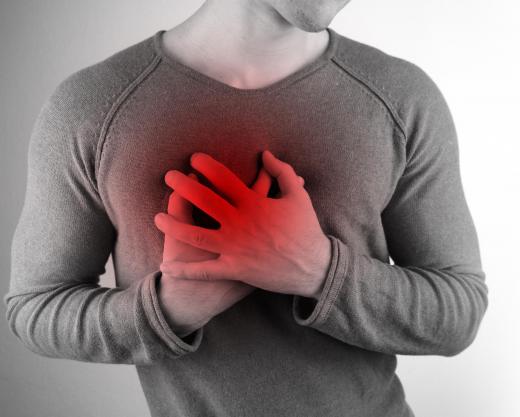 Vomit can also look brown because of blood in the gastrointestinal tract. People often call it "coffee ground" regurgitation since it looks like ground coffee after regurgitating. Most of the time, blood that looks brown in vomit is a little old or partially digested, while that which looks bright red is fresh. There are many different causes of throwing up blood, but one of the most common ones is inflammation or irritation of the stomach lining. Excessive use of Non-Steroidal Anti-Inflammatory Drugs (NSAIDs), over-use of alcohol, stomach infections, and pernicious anemia can often cause this.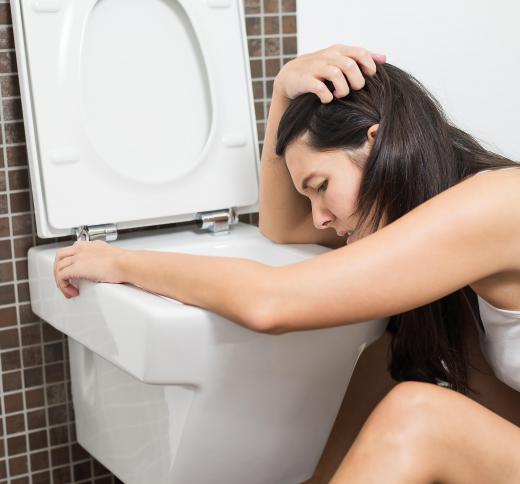 Ulcers can also cause gastrointestinal bleeding, particularly if they erode the stomach lining around them. Likewise, cancers related to the gastrointestinal system, including stomach cancer, esophageal cancer, and pancreatic cancer, can cause bloody vomit and severe liver damage. Some people also throw up blood if they swallow a lot of it during a nosebleed or because of swallowing blood that they cough up due to respiratory disorders. Though the blood in these cases is more likely to be fresh and look red, it can look brown if the bleeding has been going on for a long time or is not active when the person regurgitates. Since so many severe medical conditions can cause bloody vomit, anyone experiencing it should see a health care professional for treatment.
Peptic Ulcer
Peptic ulcer disease is another possible cause of brown vomit. Peptic ulcers are sores that form in the stomach or small intestine lining. They can block the intestines and cause the vomit to turn brown. They can also signify hematemesis or bleeding in the upper digestive tract.
Cancer
Tumors or cancer in any part of the gastrointestinal tract are sometimes associated with bloody vomit and throwing up. Sometimes, the nausea is a symptom of the disease itself, and other times it's a side effect of the treatment. If you received a diagnosis for any of these conditions, describe the symptoms to your doctor so they can find the best solution for you.
Pernicious Anemia
This type of anemia, characterized by the body's inability to process and utilize vitamin B12, has nausea and vomiting as one of its symptoms. On rare occasions, vomit can contain blood due to stomach or intestinal damage.
Are Frequent Nosebleeds Related to Brown Vomit? 
Frequent nosebleeds can also cause brown vomit. Nosebleeds can introduce large amounts of blood into the gastrointestinal tract, changing the vomit's color to brown. In some cases, the blood from the nosebleed causes vomiting.
Intestinal Blockage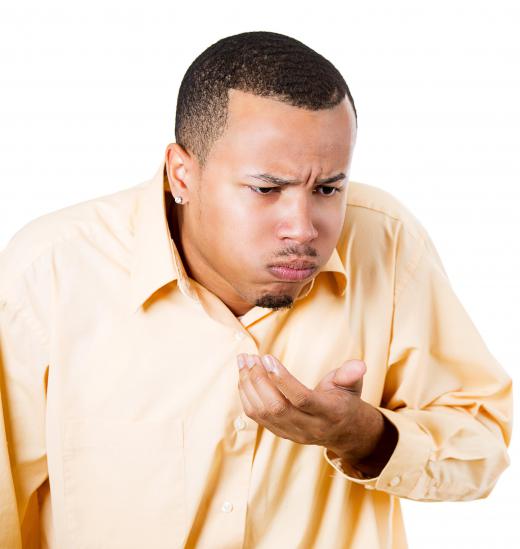 Rarely, brown vomit may occur when a person has prolonged constipation or an intestinal blockage. When substances in the intestine cannot pass through the obstruction, they may travel back up through the stomach and esophagus. The color of vomit in this situation can range from greenish yellow to dark brown, depending on how far down in the intestines the blockage is. Though this is often called fecal vomiting, people may not throw up actual feces but instead digested food.
Bowel obstructions generally require immediate medical intervention. Imaging studies can determine the location and possible cause for the block; treatment depends on the reason for the obstruction. Sometimes, medical professionals can treat the obstruction with an enema or stent. In severe cases, the obstruction inhibits blood flow, which causes part of the intestine to die. In these cases, surgery is necessary to remove the blockage and dead tissue and reconnect the bowel.
Diverticulitis
Diverticulitis is a condition in which the diverticula, or small pouches, in the intestine's lining become inflamed. This can lead to a blockage in the intestines and result in brown vomit. 
Duodenitis
Duodenitis is an inflammation of the duodenum. Like diverticulitis, it sometimes results in intestinal blockage. Its complications include vomiting blood, severe pain, and anemia due to iron deficiency.
Other Causes of Brown Vomit
There are a few other conditions or illnesses that may cause brown vomit. Most of these are related to the gastrointestinal tract.
Gastrointestinal Infections
These infections can cause inflammation and irritation of the gut, leading to changes in motility and the production of brown vomit.
Pancreatitis
Pancreatitis causes the pancreas to become inflamed. It creates congestion that prevents the digestive enzymes' flow and leads to brown vomit.
Crohn's Disease
Crohn's disease can cause inflammation in the digestive tract, which can cause bleeding in those affected. This can lead to a build-up of brown pigment in the vomit. Other symptoms include abdominal pain, fatigue, and malnutrition.
Acid Reflux
Acid reflux happens when stomach acid flows back up into the esophagus. It irritates the esophagus and leads to the formation of brown vomit.
Defects in GI Blood Vessels
There are various conditions related to abnormalities in the blood vessels of the gastrointestinal tract. When present, damage related to these can result in varices (enlarged veins) in the stomach or esophagus.
Liver Disease vs. Kidney Disease
Liver disease can lead to a build-up of bilirubin in the blood, giving the vomit a brown color. It results from the liver's inability to process and excrete bilirubin properly.
Kidney disease can lead to a build-up of urea in the blood, giving the vomit a brown color. This results from the kidney's inability to filter and excrete urea properly.
Can Medications Cause Brown Vomit?
Some medications can cause changes in gut motility or increased gastrointestinal bleeding, both of which can produce brown vomit. A new medication regime may be the culprit as well. If you are experiencing persistent brown vomiting, it is best to speak to your doctor about the possibility of changing your medication.
Some of the most common medications that can cause this symptom are aspirin and anti-inflammatory drugs.
What Is Cyclic Vomiting Syndrome?
Cyclic vomiting syndrome is a challenging condition that causes recurrent episodes of vomiting. It is onset due to issues with the nerve signals between the brain and digestive tract. 
What Are Some Other Non-GI Causes?
There are also a few non-GI causes of brown vomit. These include:
Pregnancy
Pregnancy can cause changes in the gastrointestinal tract that can lead to brown vomit. This is due to the increased levels of hormones in the body during pregnancy.
Supplements
Certain dietary supplements can cause brown vomit. These include iron supplements and antacids. Iron supplements and antacids can create the brown pigment in vomit.
Injury
Injury to the gastrointestinal tract can also cause brown vomit. It may be the result of a car accident or a fall.
Wrapping Up
Brown vomit can have many causes, some of which are serious. If you are experiencing brown vomit, especially if other symptoms accompany it, you should see your general practitioner to rule out any underlying conditions.
Frequently Asked Questions
What are the most common causes of brown vomit?
Gastritis, gastrointestinal hemorrhage, bile reflux, and bowel blockage are some of the most typical conditions that result in brown vomit. When bile backs up into the stomach, it is known as bile reflux, and it can result in dark vomit. Brown vomit is another symptom of stomach lining irritation known as gastropathy. Vomit that has had gastrointestinal bleeding, such as from ulcers, may appear brown because it includes blood that hasn't been fully digested. Last but not least, intestinal obstructions can result in vomiting dark vomit.
What are some other symptoms that may accompany brown vomit?
Brown vomit may also be accompanied by other symptoms, including fever, nausea, diarrhea, and stomach discomfort. While nausea and diarrhea may point to a viral or bacterial infection, abdominal discomfort may be present in situations of gastritis or intestinal blockage. Infection-related instances may also have a fever.
Should I seek medical attention if I experience brown vomit?
Certainly, you should go to the doctor if you encounter brown vomit, especially if it is accompanied by additional symptoms like fever, nausea, or stomach discomfort. Brown vomit may be a sign of a significant underlying medical condition; thus, it may be vital to seek immediate medical assistance in order to identify and address the problem.
How is the underlying cause of brown vomit diagnosed?
Physical examination, medical history, and diagnostic testing are frequently used to determine the underlying reason for brown vomit. Brown vomit can have a variety of causes, which can be determined via blood testing as well as imaging tests like an endoscopy or CT scan.
How is brown vomit treated?
The underlying reason will determine the course of treatment for brown vomit. For instance, drugs that reduce stomach acid or encourage bile movement may be recommended if bile reflux is the underlying reason. Antibiotics or drugs that lower acid levels can be used to treat gastritis. Bowel blockage may necessitate emergent surgery, while gastrointestinal hemorrhage may necessitate hospitalization, blood transfusions, or surgery.
Are there any home remedies for brown vomit?
Brown vomit does not have any particular home treatments because the underlying reason will determine how it is treated. But there are some basic strategies that can assist with symptoms, such as drinking enough fluids, avoiding solid foods until nausea and vomiting stop, and getting as much rest as you can. Instead of attempting to self-treat brown vomit, it's critical to get medical treatment.
AS FEATURED ON:
AS FEATURED ON:

By: Mariusz Blach

Brown vomit can be caused by eating brown foods.

By: benbro

Eating dark foods like chocolate cake can make vomit look brown.

By: PictureP.

On rare occasions, a person can throw up brown vomit due to an intestinal blockage.

By: Lars Zahner

Blood in the gastrointestinal tract can make vomit appear brown.

By: womue

A bland diet that includes rice is recommended for a person who has experienced bouts of vomiting.

By: pathdoc

Most cases of brown vomit are benign and clear up on their own within a few days.