What is Dialysis Treatment?
When a person's kidneys fail due to damage or disease, dialysis treatment is used as a replacement for kidney function. Dialysis is a procedure in which a person's body is cleaned of impurities and toxins, a task which his or her kidneys would perform if they were still functional. People who undergo regular dialysis treatment are usually in end-stage renal failure and have no more than 10% to 15% kidney function remaining.
Dialysis treatment is crucial for people suffering from kidney failure. Without functional kidneys, they can no longer remove salts, waste, and water, and their bodies cannot maintain safe levels of sodium, potassium, and other minerals. Dialysis also helps to control blood pressure, which can rise or fall dangerously due to an imbalance of salts and minerals.
For some people, dialysis treatment is only a short-term measure, required as a result of acute kidney failure, or damage or disease that causes temporarily impaired kidney function. Others need regular dialysis as a result of chronic kidney failure. In these cases, the kidneys are permanently damaged, and only a successful kidney transplant will end the need for chronic dialysis.
There are two types of dialysis treatment. These are called hemodialysis and peritoneal dialysis. Each procedure works slightly differently, but operates on the same principles of replacing kidney function by removing waste products from the blood.
The process of hemodialysis uses an artificial kidney, called a hemodialyzer, to remove the waste products and fluids that build up in the blood. To allow blood to flow through the artificial kidney, a dialysis patient must undergo a minor surgical procedure that creates an access point in an arm or leg. For the average person, dialysis treatment occurs three times a week for around four hours per session. The actual frequency and time depends on the amount of kidney function an individual person has remaining, how quickly waste products build up in the blood, and other factors.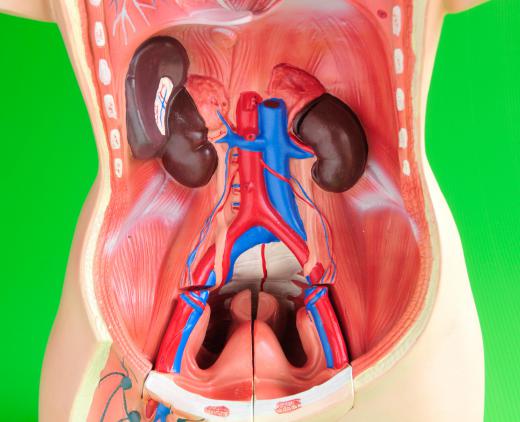 The second type of dialysis is called peritoneal dialysis. Rather than removing the blood from the body in order to remove waste, the blood is cleaned while still inside the body. A doctor first creates an access point with a minor surgical procedure that places a catheter in the abdomen. At each peritoneal dialysis session, the catheter point is slowly filled with a solution called the dialysate, which then fills the interior of the abdominal cavity. Waste products in the blood filter through arteries and veins into the dialysate via osmosis.
While dialysis can replace the work that the kidneys do, dialysis is not itself a cure for kidney failure; rather it is a treatment that manages the condition. Many people who require chronic dialysis can live fairly normal lives, apart from the need to undergo the treatment several times per week. As the dialysis procedure is improved, it is likely that people requiring this treatment will be able to live just as long as people with functional kidneys.
AS FEATURED ON:
AS FEATURED ON:

By: beerkoff

A hemodialysis machine.

By: beerkoff

A dialysis machine.

By: satin_111

The kidneys and renal veins and arteries.

By: maya2008

The dialysis procedure performs some of the functions of normal, healthy kidneys.

By: Tyler Olson

Dialysis treatment is critical for people suffering from kidney failure.