L-Lysine is an essential amino acid that is available as a nutritional supplement. It helps the body absorb calcium, and supports the creation of collagen. Evidence suggests that lysine may help treat cold sores and help prevent osteoporosis.
Amino acids such as L-Lysine are required to maintain good health. These acids are not manufactured by the human body. People get their required amount of amino acids from food, nutritional supplements, and herbs. Natural sources of this amino acid include red meat, chicken, fish, eggs, tofu, and legumes, such as beans and peas.
L-Lysine is linked to the production of carnitine. Carnitine converts fatty acids into energy, which in turn reduces cholesterol in the bloodstream. Lysine has also been used to treat cold sores.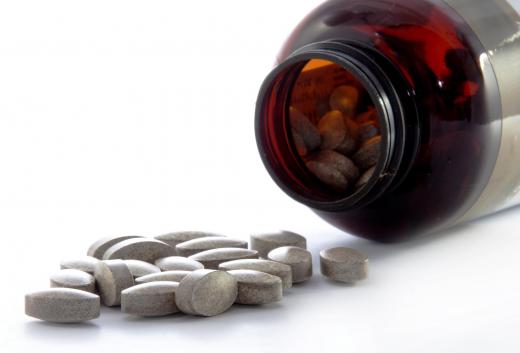 Several studies were completed to test the effectiveness of taking these supplements on a regular basis to control cold sore and genital herpes outbreaks. These studies had mixed results. While some groups concluded that this supplement prevented outbreaks, other studies showed that the Lysine supplements had no effect on the duration or timing of outbreaks.
Since it is connected to the production of collagen, athletes sometimes take lysine supplements. Collagen builds connective tissues and helps the human body maintain lean muscle tissue and burn fat. No major studies support this use of the lysine supplement.
People with an L-Lysine deficiency can suffer from nausea, fatigue, dizziness, and other common flu-like ailments. Fertility issues may surface as well, if not enough L-Lysine is present in the body. Women who have trouble conceiving can talk to their doctor regarding supplement use.
Health-conscious people can supplement their L-Lysine intake with tablets or liquid. Lysine is also available as a cream that can be used to treat a cold sore or herpes outbreak in progress. Patients taking any medications should consult a doctor prior to taking supplements, as negative drug interactions are possible.
Too much Lysine in the body can cause problems also. Excessive use of lysine can cause cramps, nausea, and diarrhea. Extremely high levels of lysine can increase cholesterol and triglycerides in the bloodstream.
There was also one report of kidney disease in a patient who took lysine supplements. People can stop taking lysine immediately and see a doctor to help alleviate these symptoms. Pregnant women and those who are breastfeeding may not want to take this supplement. Not enough is known regarding the safe use of Lysine in pregnant women and nursing mothers.


By: Artyshot

L-Lysine can be found naturally in red meat.

By: compuinfoto

L-lysine is often taken as a supplement.

By: Steve Silver Smith

Lysine supplementation might be beneficial, but there also are a few possible side effects.

By: Johan Larson

Overuse of lysine can cause diarrhea and stomach cramps.

By: uwimages

Lysine can be used to treat cold sores.

By: Jiri Hera

Tofu is a great natural source of L-Lysine.