Mecobalamin is a common misspelling of methylcobalamin, one of several forms of vitamin B12. It is among the cobalamin family of compounds, and as the properly spelled name attests, it contains an attached methyl group. It is naturally produced by bacteria and is often present in the human body at low levels. It also has pharmaceutical applications in the treatment of a number of conditions, and is clinically relevant in the case of patients with Arakawa's syndrome II, a metabolic disorder characterized by the inability to metabolize mecobalamin.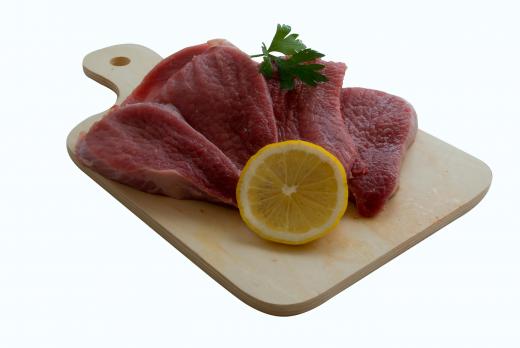 Vitamin B12 is an important vitamin for the human body. This water-soluble compound plays a role in neurological function, and is also involved in the process of producing blood. Mecobalamin can be used in the treatment of anemia when a patient has a B12 deficiency, and it is also employed in the care of patients with neurological disorders. Neuropathy, where the peripheral nervous system does not function normally and patients experience numbness, tingling, and other symptoms, can be treated with this substance. The drug is also used in the early treatment of amyotrophic lateral sclerosis.
In patients with Arakawa's syndrome II, mecobalamin in the body cannot be adequately processed. This leads to neurological deficiencies, as the nervous system and brain are not able to access the B12 they need. Patients can experience a variety of problems related to the nervous system, ranging from gastrointestinal distress related to poorly functioning nerves in the gut to learning disabilities associated with interruptions in brain function.
Preparations for pharmaceutical use are made in labs where bacteria are carefully cultured to produce purified forms of this B12 compound. It tends to be a bright red to orange color and is available for injection, as well as in tablets for oral use. Some stores sell it as a nutritional supplement, and it can also be prescribed specifically for patients who need it. As with other supplements, it is advisable to consult a doctor before starting mecobalamin to get advice on the dosage and determine if there are any contraindications that would advise against use of the drug.
Potential side effects can include itching and skin irritation, diarrhea, and allergic reactions. Patients who notice signs of allergic reactions in particular should contact their physicians for advice. Rarely, patients can experience blood clots while on mecobalamin. Patients with a history of clotting problems may want to discuss the issue with a physician to get information on the risks.


By: joshya

Mecobalamin may be used to treat anemia if a patient also has a B12 deficiency.

By: Blind Shot

Unprocessed beef contains large quantities of vitamin B12.

By: sudok1

Mecobalamin can be used to treat amyotrophic lateral sclerosis, a condition which may necessitate feeding tubes.

By: monticellllo

B12 is often available as a nutritional supplement.

By: schankz

Methylcobalamin may be given to patients with peripheral neuropathy to promote healing of skin lesions.

By: joshya

Damage to the nerve interferes with its function, causing a problem known as neuropathy.