What is Occipital Neuralgia?
There are two nerves that travel through the back of the head and are called the occipital nerves. Impairment, inflammation or stress on either or both of these nerves and many other conditions may lead to occipital neuralgia. This causes headache especially in the back of the head and other symptoms that may be very difficult to endure.
The pain felt with this condition is often described as burning or shooting, and it may start in the neck, heading up the back of the skull and usually branching off to one side of the head in the direction of the eye. The occipital nerves don't affect the front of the head, so headache that is in the forehead or the face is unlikely to be occipital neuralgia. However, the condition has been compared to migraines in other respects.
Though most often pain affects one side of the head, it may affect both if both occipital nerves become irritated or are involved. Other types of pain or sensitivity can be associated with this condition too. This includes sensitivity of the skin and surface of the head so that touching it for things like grooming or shampooing become extremely difficult due to discomfort.
There are many potential causes of this condition, including tightness or tension in the neck cause by things like repeatedly keeping the head down (perhaps by typing at a laptop). Traumatic injury to the neck or head might damage one of the occipital nerves or some forms of arthritis in the cervical spine may cause pressure on the nerve. Tumors in the cervical spine could have a similar result. Sometimes people with diabetes get this condition and another cause could be certain forms of infection. In many cases, there is no explanation for inflammation of the occipital nerves.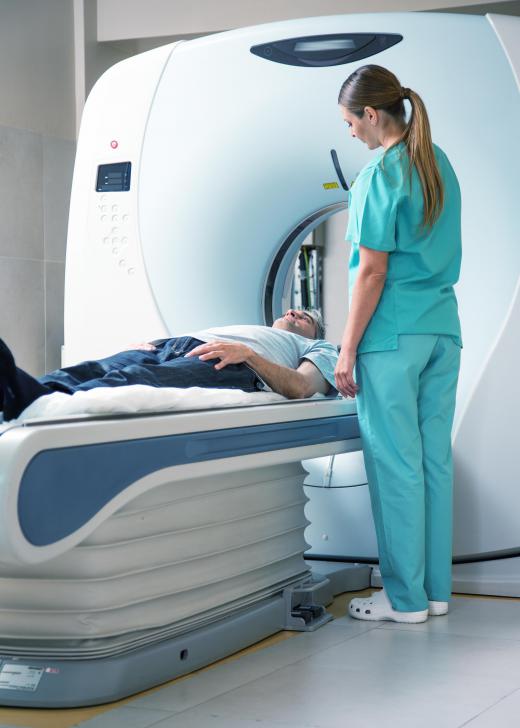 Diagnosing occipital neuralgia can be done in a number of ways. Doctors, typically neurologists, might perform magnetic resonance imaging (MRI) or computerized axial tomography scans (CAT scans), to see if there is any potential injury or blockages present in the cervical or neck spine. Another way this condition is often diagnosed is by performing a nerve block on the occipital nerve suspected of creating the problem. This causes the nerve to go completely numb, temporarily, and if occipital neuralgia is the cause of a patient's pain, the nerve block typically relieves pain and confirms diagnosis.
Once a patient has been diagnosed, there remains the issue of how to treat the condition in a more permanent way. There are several potential treatments and if doctors determine a direct cause, they may have a better idea as to how to proceed. Many begin with conservative non-surgical treatment methods, which might involve administering medications to reduce pain. Common choices are non-steroidal anti-inflammatory drugs (NSAIDs) and medications like Tegretol®, Neurontin®, or sometimes some antidepressants. Using heat and massage of the neck may also prove helpful.
When pain is long lasting and resists treatment with medications, doctors might suggest some methods of relieving pain that will destroy or impair the occipital nerve to reduce pain. This does have the unpleasant side effect of leaving part of the head numb to feeling, but for many feeling nothing is far better than being subject to constant pain. These procedures, including cutting or burning the nerve, will usually be employed only if a patient has responded well to an occipital block. Many people do not need to have surgery to fix occipital neuralgia and could respond well to more conservative treatment.
AS FEATURED ON:
AS FEATURED ON:

By: aceshot

Pain felt with occipital neuralgia may start in the neck.

By: stokkete

Causes of occipital neuralgia including tension in the neck may include activities where the head is repeatedly kept down, such as typing on a computer.

By: jovannig

An MRI may be conducted to diagnose occipital neuralgia.

By: mykeyruna

Neck massages may be beneficial to those who suffer from occipital neuralgia.

By: Nenov Brothers

Non-steroidal anti-inflammatory drugs may help treat occipital neuralgia.

By: nebari

Occipital headaches can sometimes cause pain behind the eyes.

By: nebari

Occipital neuralgia may cause burning or shooting neck pain.

By: Andrey Ushakov

A CAT scan may be used to help diagnose occipital neuralgia.

By: MediablitzImages

An inflamed occipital nerve can trigger migraine headaches.

By: JPC-PROD

A gel pack may be used to numb neck pain caused by damage to the occipital nerves.