As an over-the-counter diuretic, pamabrom is typically recommended to women to alleviate symptoms associated with menstrual cycles. Medical professionals also prescribe the use of such a water pill for other conditions involving water-weight gain. The medication works, as all diuretics do, by pulling excessive water from throughout the body and increasing how frequently patients need to urinate. By flushing excess fluid from the system, patients gain relief from the uncomfortable bloating and swelling.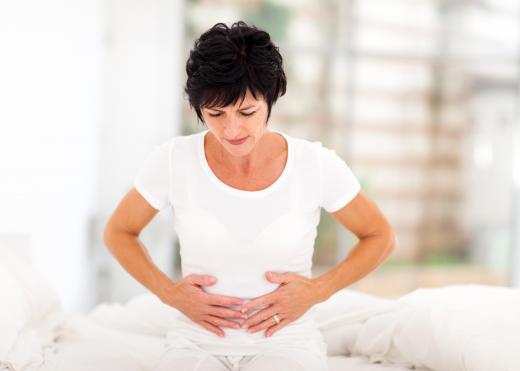 This drug is sold under a number of brand names, generic names, and store labels. Variants are also available which include both the diuretic and acetaminophen. With the addition of a pain reliever, women have a means to alleviate both bloating symptoms and pain associated with menstrual cramps with one pill. For simple pamabrom-only medications, the typical dosage is one tablet every four to six hours or four times per day. Formulas that also include acetaminophen may have slightly different dosing frequencies and medication strength.
When the two drugs are combined, the medication's use is not limited to just women experiencing menstrual symptoms. Many over-the-counter formulations help alleviate the pain associated with minor back injuries or strained muscles. Other indications for use are possible under the careful guidance of a medical professional. A prescription is not necessary, but healthcare professionals may prescribe pamabrom as part of an overall treatment regime as needed for menstrual symptoms, back pain, or other conditions.
A chemical compound known as 8-bromothephylline is the active ingredient in pamabrom. It is known to cause few side effects, although patients with high blood pressure, kidney disease, or certain cardiovascular conditions should not take medications containing this compound. Severe allergic reactions, including hives, facial swelling, or breathing problems, require immediate medical attention or a visit to the local emergency room. Pharmacists and medical professionals may have additional information regarding common side effects and what factors might influence troublesome side effects.
Certain prescription and over-the-counter medications can interact with this drug. It is important that users not take it with other diuretics, including those prescribed to help lower high blood pressure. Common diuretics include torsemide, indapamide, and ethacrynic acid, among others. Users should follow proper dosing instructions, making sure not to take more than four tablets in a single day. Healthcare professionals may have recommendations regarding other medications and herbal supplements to avoid or dietary adjustments required for some patients.


By: overcrew

Pamabrom helps alleviate pain from menstrual symptoms.

By: michaeljung

Pamabrom helps to flush out excess fluid, helping patients to gain relief from bloating and swelling.

By: Chatchai

Pamabrom works by pulling excessive water from throughout the body and increasing how frequently patients need to urinate.

By: Maya Kruchancova

Most girls start to menstruate between the age of 10 and 15 years old.

By: Radosław Brzozo

Some versions of pamabrom include acetaminophen.