What Is Significant about Vomit Color?
Emesis, which is also known as vomiting, or throwing up, is a natural occurrence that involves the stomach contents passing through the esophagus, and then out of the mouth. Vomit color can sometimes indicate the presence of certain conditions, though it is always important to check with a doctor when unusual or persistent vomiting occurs. If someone vomits shortly after having eaten a meal, then the color may simply depend on the food that was eaten. Bright red, dark red, and vomit that looks like coffee grounds can all indicate different types of bleeding. A yellow or green vomit color can indicate the presence of bile, especially if it is thin and watery.
There are many different causes for emesis, some of which require immediate medical attention. Not all cases of emesis require a visit to the doctor, though if the vomiting persists, or is especially debilitating, then it is essential to contact a medical professional immediately. It is especially important to seek medical attention for children and infants who are throwing up bile or blood. Medical advice should also be obtained before beginning any type of treatment regimen other than bed rest and hydration.
If someone throws up due to overeating, drinking too much, or other similar causes, then the color of their vomit will tend to be determined by whatever food they have eaten recently. There is typically no reason to be concerned about this type of emesis, regardless of vomit color, unless it persists or is radically inconsistent with the most recent food that was eaten. Eating or drinking red foods or liquids can result in a red vomit color, and so on for other types of foods and drinks. If the color of the vomit does not correspond to the types of foods that have been eaten, however, then there may be some cause for concern.
Bright red vomit typically indicates that there is some type of active bleeding in the esophagus. This is due to the fact that blood begins to darken quickly when exposed to oxygen. Darker red colors of vomit tend to indicate gastrointestinal bleeding. Minor stomach bleeding will tend to produce dark vomit with the consistency of coffee grounds. More severe bleeding will typically result in large clots of dark blood, which may indicate a perforated stomach ulcer.
A yellow or green vomit color typically indicates the presence of bile, which is a bodily fluid that is produced in the liver. Bile is normally confined to the duodenum, which is the part of the small intestines that is joined to the stomach. Certain conditions can result in bile leaving the duodenum and entering the stomach, after which it may be thrown up. Bile is normally either yellow or green in color, so it can cause vomit to have that type of appearance as well.
What Are the Different Types of Vomit?
Vomit presents in many forms. How a person vomits will depend on many factors, including what they ate, why they're vomiting, and any preexisting conditions they might have. 
Dry Heaves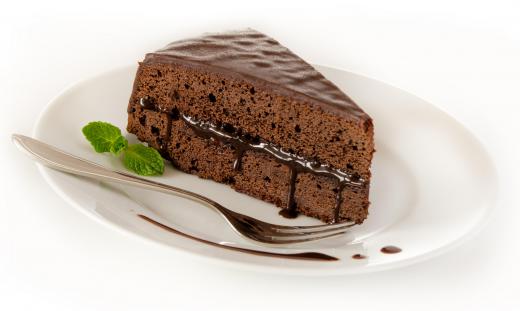 Dry heaves often come after excessive or cyclical vomiting. If you're dry heaving, your stomach has probably expelled everything and now you're simply left with residual nausea. Dry heaving could also be due to stress or a reaction to something in your environment, such as a smell. 
Spit Up
Spit-up is most common in babies. Although it's not technically vomiting, spit-up involves regurgitating whatever is in the baby's stomach. Spit-up is usually caused by gas or reflux. Since a baby's stomach is small, a single gas bubble can prevent contents from settling. When that happens, a simple burp can cause the baby to upchuck everything. Since babies typically only ingest formula or breast milk, spit up is usually white.
Projectile Vomiting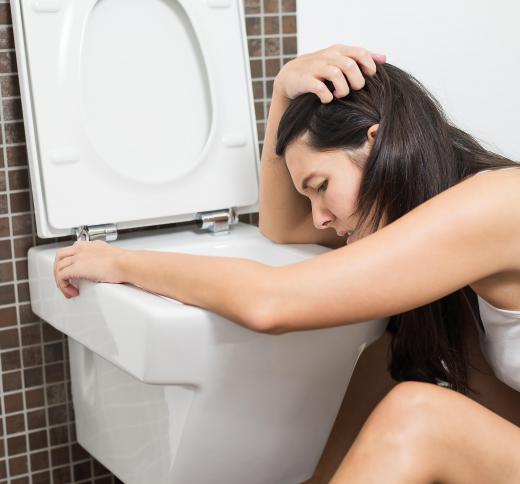 Projectile vomiting occurs when your body forcefully rejects your stomach contents. This is common with allergic reactions or food poisoning. This vomit can be anywhere from food-colored to clear, depending on how empty your stomach is. Prolonged projectile vomit can also lead to small amounts of blood due to stomach acid on your esophagus. 
Blood-Streaked Vomit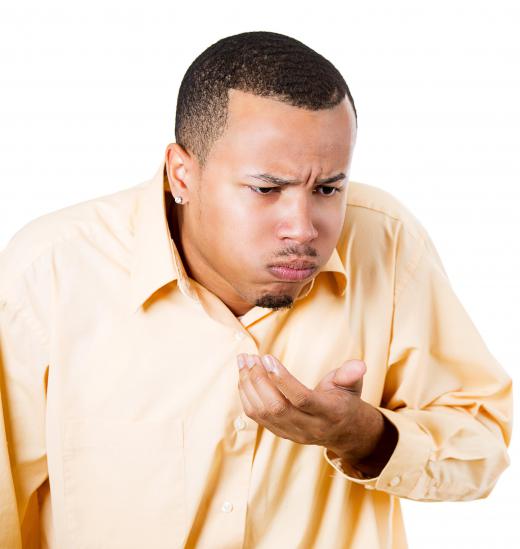 Blood-streaked vomit is usually indicative of a severe problem. Darker blood could be a sign of stomach or intestinal bleeding. Likewise, light blood likely indicates esophageal bleeding, called a Mallory-Weiss tear. In either case, you should seek medical attention. 
What Can Cause Vomiting?
Vomiting is a symptom of many conditions and illnesses. However, some things are more likely to cause vomiting than others. 
Food Poisoning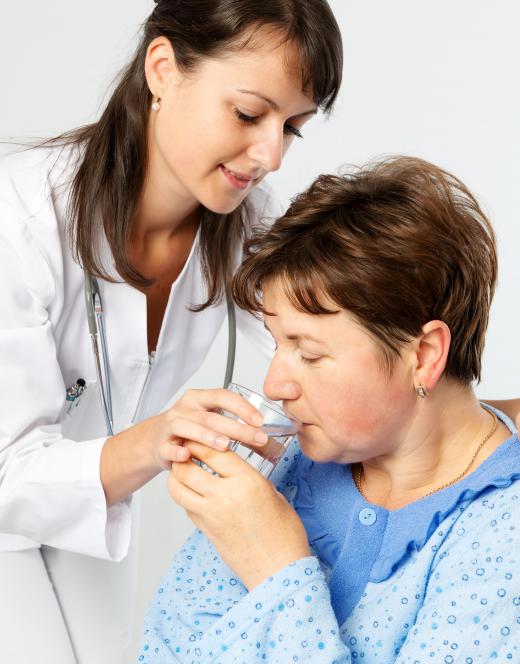 Food poisoning is a common cause of vomiting. Typically, food poisoning presents within twelve hours after you eat. Therefore, your vomit color will typically match up with whatever you ate. Although, depending on how much time has passed, the color could lean toward brown or gray. 
Allergic Reaction
When you have an allergic reaction, your immune system revolts against you. If your reaction was to food your vomit's color will align with whatever you ate. Allergy-induced vomit often occurs right away. It can also happen quickly if you get a dose of epinephrine.
Stomach Bug
Stomach bugs, often referred to as the stomach flu, are a major cause of vomiting. Unfortunately, vomiting can go on for quite a while when you're sick to your stomach. When that happens, your vomit color will run the gamut. It'll start out with whatever you ate last. Then, as your body reacts, your vomit will eventually shift toward yellow or green. At that point, you're throwing up mostly bile. 
Acid Reflux
Acid reflux is a common cause of chest pain and heartburn. In severe cases, reflux can lead to vomiting, too. Since reflux often causes burping and coughing that brings acid to your mouth, you might become nauseous. If your reflux is severe, that nausea could turn into vomiting. As with illness, reflux-induced vomit will be the color of whatever's in your stomach.
Pregnancy
As your body changes during pregnancy, you might find yourself with "morning sickness." Morning sickness is vomiting with no single cause. Instead, it has multiple triggers, including changing hormones, shifting organs, low blood sugar, and stress. 
When Should You Call the Doctor?
Vomiting will usually resolve itself on its own. More often than not, it has a specific cause that simply needs to pass. However, there are a few instances in which you should contact your doctor. If any of the following occur, contact your doctor immediately:
Vomiting is uncontrollable
Vomiting doesn't stop after 24 hours for children, 48 hours for adults, or 12 hours for infants
You start showing signs of dehydration
Blood appears in your vomit
Vomit starts to look like coffee grounds
You become lethargic
You develop a fever
Severe pain accompanies vomit
Should You Ever Induce Vomiting?
You should only induce vomiting if your doctor instructs you to. A doctor will rarely recommend it. However, when they do, they'll provide detailed instructions on how to induce vomiting safely. 
Inducing vomiting can cause many problems, including:
Damage to your esophagus
Dehydration
Imbalance of electrolytes 
Aspirating vomit
Damage to throat tissue
Inducing vomit is also unlikely to remove everything in your stomach. So, if you're tempted to vomit to remove something you swallowed, it might not be as effective as you think.
AS FEATURED ON:
AS FEATURED ON:

By: Nitr

Drinking red beverages may cause a red vomit color.

By: Aleksey Kondratyuk

Overeating may cause vomiting.

By: rob3000

Bloody vomit may be a sign of an ulcer.

By: benbro

Eating dark foods like chocolate cake can make vomit look black.

By: Lars Zahner

Certain conditions can be suggested by the color of vomit.

By: pathdoc

Vomit color can sometimes indicate the presence of certain conditions.

By: koszivu

Individuals who have been vomiting repeatedly over the course of a few days may experience dehydration.