There are many different diets available for people who wish to lose weight, live healthier lifestyles, or cure certain ailments. The Hunza diet is a low-fat option that has grown in popularity. The meal plan is based on the diet of the Hunza people of the Middle Eastern Kashmir Valley.
The Hunza people are known for their unusual longevity. Most members of the group live up to 120 to 140 years of age. When death comes, it is typically attributed to old age rather than the diseases that claim so many lives in the Western world. It is widely believed that this extreme longevity is due to the Hunza diet.
Unprocessed whole foods make up the backbone of the Hunza diet. Forty percent of total calories consumed come from whole grain foods, such as wheat, millet flour, buckwheat, or ground barley. Fresh vegetables make up an additional 30 percent of the diet. Mulberries, apricots, grapes, and other fresh fruits account for 15 percent of total calories in the diet.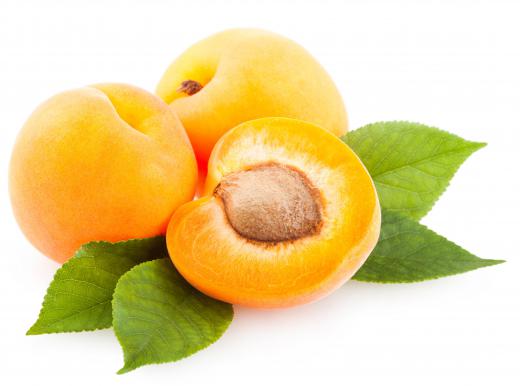 Most of the rest of the diet includes beans and nuts or seeds. Of all of these foods eaten, most are consumed raw. Processing, if any, typically involves drying fruits in the sun. Milk and dairy products like yogurt are also eaten regularly, and provide protein as well as intestinal flora.
The Hunza diet typically includes a only small amount of meat. Traditionally, meat was reserved for celebrations or special occasions, though this could change when meat was readily available. This translates to a very low concentration of saturated fat by the Hunza people, preventing diseases such as gout, osteoporosis, kidney disease, cancer, rheumatoid arthritis, diabetes, kidney stones, colon diseases, and heart disease. Most of these conditions are considered the cause of death for many people in the West.
Results from the Hunza diet include a healthy digestive tract due to the high amount of fiber from the whole grain diet. Most of the Hunza people are said to possess a keen enthusiasm for life, as well as boundless energy. The diet is also credited with producing a calm serenity that counteracts the common stress involved with Western life. Long-lasting youth is another reported benefit of the Hunza diet.
Living as high as the peaks of the Himalayan Mountains, the Hunza are essentially cut off from the rest of the world. Their small population of 30,000 people are considered one of the happiest cultural groups in the world. Even at age 100, Hunza people do not consider themselves old. Some Hunza men produce children at this age.
What Are Myths About the Hunza Diet?
Just as with many specialty diets out there, there are various myths about the Hunza Diet. Although some misconceptions are merely incorrect, others can lead to unhealthy choices and need to be debunked.
You Should Eat Apricot Kernels
While the Hunza diet is rich in fruits and vegetables, with apricots being eaten regularly, the information about the consumption of large quantities of apricot kernels is not likely to be based on fact. The apricot kernel is the seed of the apricot plant and is found inside of the hard stone at the center of the fruit. Although the kernel has a sweet taste and does contain many healthy substances including high levels of omega-3 and omega-6 fatty acids, they also contain a substance called amygdalin. 
Although there is some conjecture that amygdalin is effective in prohibiting cancer growth, it is also converted into cyanide when digested. For this reason, consuming apricot kernels is typically discouraged by health professionals. The low incidences of cancer in the Hunza population is likely due to the health benefits of their entire diet as well as their healthy lifestyle.
It's the Same as the Raw Foods Diet
Much of the Hunza diet is indeed consumed raw; however, it is not correct to assume that it is the same as what is known as a raw food diet. The vast majority of those people following a raw food diet are also vegans. Both proponents of the raw food diet and the vegan diet commonly experience similar nutrient deficiencies that include a lack of B12 and insufficient protein consumption. In comparison, the Hunza diet includes small amounts of meat as well as generous portions of beans making it a much better source of complete nutrition than either the vegan or raw food diet.
The Diet Alone Will Transform Your Health
The Hunza diet may well have positive effects on overall health and achieving a healthy weight. The diet is rich in unprocessed, healthy foods including generous amounts of fruits, vegetables, unprocessed grains, milk and legumes. But diet alone is not the only thing the Hunza are doing right.
The Hunza people live a relatively stress-free lifestyle, especially in comparison to the hectic lives of much of the highly populated world. Just as an unhealthy diet is scientifically linked to many of the diseases that are prominent today, the effects of persistent stress are also known to have a serious adverse impact on overall wellness. Along with adopting a healthy and unprocessed diet, seeking out and engaging in stress reduction techniques will increase both physical and mental wellbeing.
Additionally, the Hunza live a relatively simple life that includes a good amount of physical exercise due to the need to traverse the terrain of their mountain home. Combining a healthy diet and stress reduction techniques with a moderate amount of exercise is a perfect recipe for robust health.
Does Hunza Diet Bread Work for Weightloss?
Hunza bread is quite dense and low in calories making it a great appetite suppressant either prior to or in conjunction with a healthy meal. The chewy texture creates an eating experience that feels satisfying and robust. It also contains a multitude of minerals and other nutrients including:
phosphorous
potassium
iron
calcium
manganese 
Although the bread is a healthy choice in conjunction with a balanced diet, there are those who promote a weight loss strategy that advocates the consumption of Hunza bread to the exclusion of all other food. Regardless of the health benefits of eating Hunza bread, no single food can provide all the nutrients the body needs. Pursuing weight loss should be one component of an overall plan to increase health and wellness.
What Is the Recipe for a Hunza Diet Bread?
There are many different recipes for Hunza bread on the internet. Since the Hunza embrace a diet of natural and unprocessed foods, it is best to choose a recipe that avoids processed grains and sugars like the one below.
Hunza Bread Recipe
3 1/2 pounds natural buckwheat or millet flour
1 1/2 cup natural unrefined sugar
1/2 cup powdered soy milk
2 teaspoons baking powder
Optionally, include a variety of dried fruits such as raisins, apricots and dates
Mix all ingredients in a large bowl. Pour batter into a greased and lightly floured baking pan. Bake at 300 degrees Fahrenheit for 1 hour. Decrease temperature to 90 degrees Fahrenheit and continue baking for 2 hours. 
AS FEATURED ON:
AS FEATURED ON:

By: Printemps

Whole grain foods such as wheat make up a large portion of the Hunza diet.

By: Malyshchyts Viktar

Apricots are part of the Hunza diet.

By: Malena und Philipp K

Grapes make up a part of the Hunza diet.

By: fotomaster

The Hunza diet can include mulberries.

By: Tupungato

Fresh vegetables make up 30% of the Hunza Diet.

By: Paulista

The Hunza diet includes nuts, seeds, and fresh fruit.

By: Andrey Kuzmin

Dairy products, such as milk, can be used when on a Hunza diet.

By: Paul Maguire

Research suggests that any person who eats a low-calorie yet healthful diet may extend his longevity and boost overall health.