The sternum, also known as the breastbone, is the bone located in the center of the chest where the upper ribs converge. It protects the heart and lungs from injury and helps to stabilize the structure of the ribcage. It is found in most vertebrates — exceptions include fish, snakes, and turtles. It takes different forms in different species; the information in this article pertains to the form it takes in humans.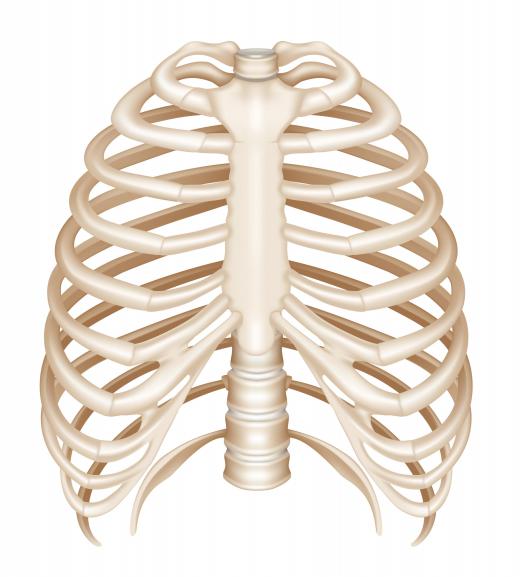 In the human embryo, the sternum first appears as two bands of cartilage which fuse in the center of the chest. This fused band gives rise to six bones, called sternabrae, that gradually combine to become the adult breastbone. The process continues throughout childhood, and may not be complete until middle or even old age. Fusion begins at the top of the bone and proceeds downward.
A long, flat bone shaped like the letter "T," the sternum is comprised of three parts. The first sternabra becomes the manubrium, the top part of the bone which forms the horizontal stroke of the "T." The manubrium is roughly diamond-shaped. It is wider at the top, where it connects to the collarbone, and narrower at the bottom.
The next four sternabrae form the middle and longest portion, called the sternal body or gladiolus. This piece forms most of the vertical stroke of the "T." The gladiolus is marked by three horizontal ridges on its front and back surfaces. It connects to the first seven pairs of ribs in humans.
A small piece called the xiphoid process connects to the bottom of the gladiolus and completes the bone. It is formed from the last sternabra and is usually the last piece to fuse. In some adults it never becomes fully fused, remaining attached to the rest of the bone by a piece of cartilage. It is thin, long, and occasionally bifurcated.
Accidental injuries to the sternum are rare. When they do occur, they are most often a result of blunt force trauma, as in an automobile accident. Fracture is usually associated with damage to the heart, lungs, and other organs. Incorrectly performed CPR sometimes causes the xiphoid process to break off, which may result in damage to the diaphragm.
In order to perform surgery on organs in the chest cavity, it is often necessary to deliberately fracture the sternum. The procedure is called a median sternotomy. It involves cutting the bone from top to bottom with an oscillating saw and then pulling the two halves apart. After surgery, the bone will heal over the course of several weeks, just like any other broken bone.


By: Sebastian Kaulitzki

The xiphoid process lies at the base of the sternum.

By: Jaeeho

The sternum connects each side of the rib cage.

By: daviles

CPR, performed incorrectly, can injure the sternum.

Turtles are one of the few vertebrates that have no sternum.

By: Arkady Chubykin

A sternotomy is a thoracic surgery that cuts through the sternum, and is often necessary for reaching the heart or lungs.