What Are the Symptoms of Sternum Cancer?
The symptoms of sternum cancer are varied since it may involve different areas of the body, but fatigue, pain around the chest region, bruising, and a general feeling of malaise are common. Sternum cancer can include malignancies found in the bones of the sternum itself, the breasts, or the lungs. In some cases cancer will begin in one area and then spread to another within the same region. The lymph nodes closet to the breast or lungs, as well as the liver, may also be affected.
Sternum cancer includes one of several cancers affecting an organ or tissue in the same general region of the body. The sternum generally includes the chest area and the breast bone underneath. Several vital organ systems are found there, including the lungs and liver.
Since so many varied diseases can affect the area, sternum cancer may not have any specific symptoms in and of itself. Most women notice a lump in the breast or armpit as a first sign of breast cancer, while lung cancer may present itself as frequent coughing and shortness of breath. Bone cancer generally causes extreme fatigue, bruising, and lethargy. Liver cancers are often asymptomatic, but they may cause jaundice and digestive problems.
All forms of cancer may lead to lethargy and fatigue, as well as malaise. Additional symptoms also occur when treatment of any of the sternum cancer forms begins. Common treatment options may include chemotherapy, surgery, and radiation therapy. Nausea, vomiting, loss of appetite, diarrhea, and extreme pain may occur with treatment of virtually any cancer.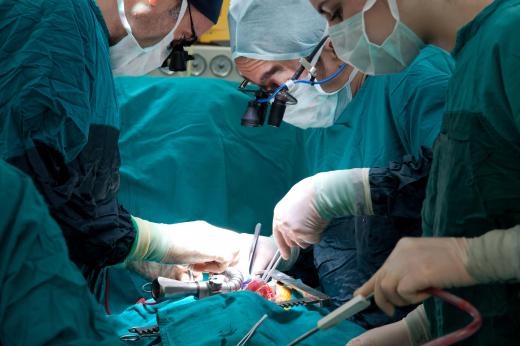 A general rule of thumb for patients to follow is to report any symptoms which are unusual for their bodies. Each person is unique, so the signs of sternum cancer may be different for everyone. Many patients have no symptoms at all in the early stages of disease. For this reason, yearly tests like mammogram should be relied on for earlier detection. The soon any cancer is found, the more likely it can be treated successfully.
One form of sternum cancer may spread and lead to additional secondary cancers. Due to their close proximity in the body, breast, bone, and liver cancers are heavily linked because they often spread from one area to the other. Lung cancer is common, although most cases are a direct result of cigarette smoking or similar activities. When taking this into consideration, sternum cancers are among the most prevalent.
AS FEATURED ON:
AS FEATURED ON:

By: starsstudio

Symptoms of sternum cancer may include fatigue.

By: maya2008

Lymph nodes closest to the liver may be affected by sternum cancer.

By: derege

Surgery is typically an option for sternum cancer.

By: reineg

The bones of the sternum can be affected by cancer.

By: Arkady Chubykin

One form of sternum cancer may spread and lead to additional secondary cancers.

By: Arto

The pain associated with sternum cancer may affect the breasts.

By: Aleksandar Todorovic

Although sternum cancer does not have specific symptoms, lung cancer may present itself as shortness of breath.

By: Photographee.eu

One form of sternum cancer may spread and lead to additional secondary cancers.