What Types of Anesthesia are Safe When Pregnant?
As with any medical intervention performed during pregnancy, expectant mothers are concerned about the possibility of undergoing surgery or other medical procedures that require anesthesia and may not be safe when pregnant. Naturally, there is concern for the development of the fetus, as well as for the immediate safety of the pregnancy and the safety of the mother. Recent studies and a long history of documented use have repeatedly shown that anesthesia is generally safe when pregnant.
With studies that involve the use of anesthesia for a pregnant woman, it is difficult to attribute complications or malformations in a pregnancy to anesthesia. It is often unclear what specifically may not have been safe during pregnancy and what may have caused the complication. Was there a preexisting and undiagnosed condition, or was the complication caused by the stress or trauma of surgery? Many risks to the fetus during surgery are unrelated to anesthetics, but rather due to the mother's reaction to the surgery.
The need for surgery arises in approximately 1.5% to 2% of pregnancies. This translates to about 75,000 pregnant American women who need surgery every year. This statistic refers to "nonobstetric" surgery, or surgery that is not related to delivery. This includes dental work, ovarian cystectomies and appendectomies, among many others. The number one cause of maternal death is trauma to the mother, and the need for emergency, nonobstetric surgery is often due to unexpected trauma.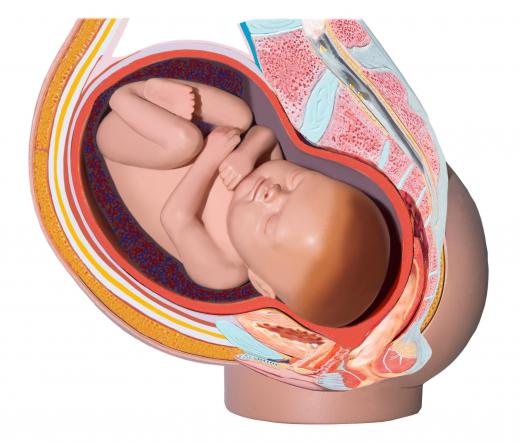 The four main concerns of an anesthesiologist caring for a pregnant woman in surgery are physical reactions relating to the respiratory, cardiovascular, gastrointestinal and central nervous systems. Above all, blood and oxygen flow must be maintained to both the mother and the fetus in order for surgery to be safe during pregnancy. If the mother experiences a drop in blood pressure or oxygen saturation, this is cause for concern for the safety of the fetus. Although concerns have been raised in the past about whether the use of nitrous oxide and benzodiazepines is safe when pregnant, no recent study has found any increased risk of congenital abnormalities or preterm labor. Doctors generally agree that inhaled and intravenous anesthetics and narcotics have a long history of being safe when pregnant.
One of the main concerns that doctors and anesthesiologists have when operating on a pregnant woman is preterm labor. For this reason, pregnant women are advised to put off any surgery that can wait until the second or third trimester, preferably the third trimester. For doctors and pregnant women who are particularly cautious, regional anesthetics can minimize the exposure of anesthesia to the fetus, and their use is safe during pregnancy. However, some surgery requires the use of general anesthesia. Women who worry whether surgery and anesthesia are safe during pregnancy may wish to consult their obstetrician, surgeon and anesthesiologist for peace of mind.
AS FEATURED ON:
AS FEATURED ON:

By: Swapan

Anesthetics delivered through a needle, inhaled gas, or pill are generally considered safe during pregnancy.

By: Oleksandr Bondar

Most risks to the fetus during surgery are not due to anesthesia.

By: Valua Vitaly

Some medical procedures that require anesthesia may not be safe for pregnant women.

By: coffeemill

Pregnant women are typically advised to put off any type of surgery requiring anesthesia until the third trimester.

By: diego cervo

Nitrous oxide -- often called laughing gas -- is considered safe for used by pregnant women.