How Do I Treat Scalp Lesions?
You can treat minor scalp lesions at home by washing your hair carefully with a shampoo designed to improve common scalp conditions, applying a topical medicine that can speed up the healing process, and identifying possible environmental triggers in order to prevent further outbreaks. Some of the most common causes of a scalp lesion include dandruff, eczema, and psoriasis. Allergic reactions to certain hair products can also lead to scalp lesions in some people. Cases of persistent and severe lesions can sometimes indicate a more serious problem such as a ringworm infection, so a dermatologist visit is normally the next logical step when over-the-counter remedies do not lead to any improvement.
Adequate moisture is necessary for a healthy scalp, and lesions are a common problem associated with a dry scalp. Sores can result from splits and cracks in dry scalp skin if left untreated. This condition is often worse during the winter months and in drier climates. Flaky and itchy scalp sores will usually clear up on their own with the regular use of a shampoo formulated to treat a dry scalp with dandruff. While the sores are healing, dermatologists advise that sufferers avoid touching or scratching the lesions in order to avoid a bacterial infection.
Psoriasis-related lesions are normally characterized by a buildup of skin scales that can range from white to yellow in color. Scraping or scratching at these scales usually causes scalp bleeding and a risk of further infection. Mild to moderate scalp psoriasis lesions can usually be treated with shampoos and topical medicines containing coal tar or salicylic acid. Psoriasis sufferers can sometimes find these products in drug stores, although some may need a dermatologist's prescription for stronger versions in order to clear up more serious sores. Since these medications are often quite drying to the hair, most physicians recommend a thick moisturizing conditioner during treatment.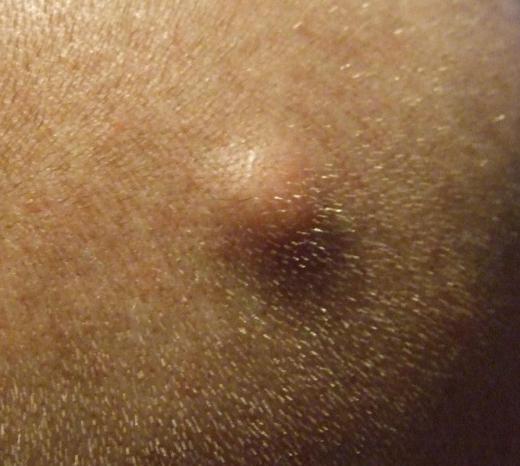 Home remedies are additional treatment options for scalp lesions if you experience sensitivities to other types of medicine. Products such as tea tree oil and lightweight oatmeal-based lotion can often bring some improvements to inflamed and irritated lesions. Switching to milder hair products without harsh chemicals is another option that may help your lesions' healing time.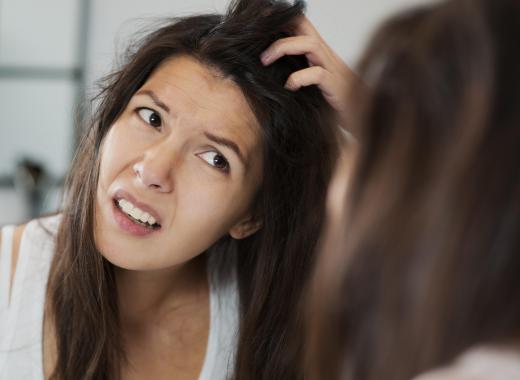 Scalp lesions and hair loss are usually signs of an underlying fungal infection called tinea capitis, also known as ringworm. This condition can be transmitted from person to person and normally requires a dermatologist's care with anti-fungal medications. Although the associated hair loss can be alarming, it is actually temporary since the strands only break off at the scalp.


By: Tyler Olson

People may treat minor scalp lesions by washing their hair with a shampoo designed to improve common scalp conditions.

By: monticellllo

Scalp lesions may form as a result of an allergic reaction to certain hair products.

By: Maridav

Scalp lesions may form during dry winter months.

By: Paul Huxley

A sebaceous cyst on the scalp.

By: Lars Zahner

Common causes of a scalp lesion include dandruff, eczema, and psoriasis.