What are Bone Marrow Cells?
Bone marrow is tissue located within the bones of the body. It is a sponge-like material primarily residing in the hip and thigh bones. Bone marrow cells are the cells that can be found within this tissue. The three primary types of bone marrow cells are white blood cells, red blood cells, and platelets.
White blood cells protect the body from invading bacteria, thereby preventing infection. Red blood cells change iron into hemoglobin, a protein that transports oxygen to other parts of the body. Finally, platelets assist in blood clotting. These three main types of bone marrow cells work together to ensure that the body remains healthy.
If the body does not produce bone marrow cells properly, a bone marrow disorder or disease can result. The most common types of bone marrow disease are leukemia, myelodysplastic syndromes (MDS), and aplastic anemia. Many of them share the same symptoms.
Leukemia is a serious form of cancer caused by an abnormal white blood cell reproducing itself. The new white blood cells produced from the abnormal cell are unable to ward off infections. They also prevent the growth of healthy bone marrow cells. Symptoms of leukemia include bone and joint pain, bruising, bleeding, recurring infections, and exhaustion.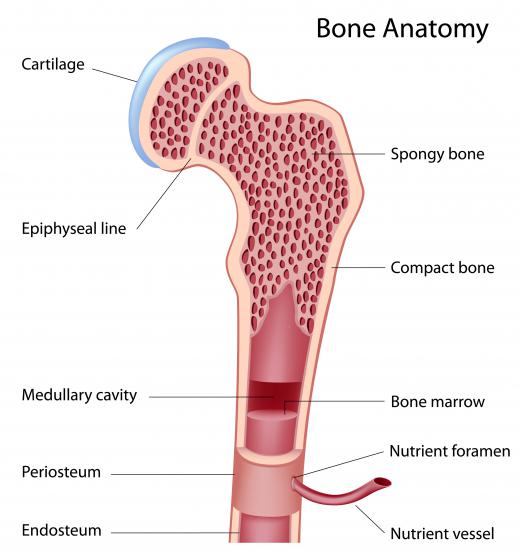 Myelodysplastic syndromes is a group of bone marrow diseases caused by the production of abnormal bone marrow cells as well. Patients suffering from these types of bone marrow diseases experience abnormal bruising and bleeding. They will also experience infections and anemia.
Aplastic anemia is caused by the reduction of healthy bone marrow cells produced in the body. When the bone marrow is unable to replace dead bone marrow cells with healthy new ones, aplastic anemia can occur. Patients who suffer from this bone marrow disorder will experience fatigue, bleeding, bleeding gums, nosebleeds, and frequent infections. Some patients with bone marrow disease may suffer from swollen glands as a response to frequent infections.
If a doctor suspects that a patient has a bone marrow disorder, he or she will order a bone marrow procedure. In this procedure, the doctor uses a special needle to extract bone marrow from the bone's core. The marrow is then examined to determine if the patient suffers from a bone marrow disorder.
Doctors treat bone marrow diseases according to the seriousness of the condition. Some disorders of blood marrow cells can be treated through medication. More serious bone marrow diseases require bone marrow transplants or blood transfusions.
AS FEATURED ON:
AS FEATURED ON:

By: Maurice Metzger

Three pieces of bone with the marrow in the middle.

By: Alila

A diagram of the anatomy of a bone, showing the bone marrow.

By: Alexandr Mitiuc

Red blood cells convert iron into hemoglobin.

By: Pavle

Treatment for bone marrow disease may include blood transfusions.