Kidney lesions are areas of anomalous tissue in or on the kidneys. Lesions can be a cause for concern in some patients depending on their cause and precise location, along with how fast they grow. Some people have lesions on their kidneys and are unaware of it, while others may develop symptoms such as bloody urine, back pain, and kidney obstruction as a result of impairments in renal function caused by the lesion or lesions.
A number of different things can cause a lesion. Lesions are injuries which are characterized by the presence of tissue which does not belong or which grows abnormally. Cancers can cause lesions as can infections and trauma. Like other lesions, kidney lesions are classified as either benign or malignant. A malignant lesion is cancerous and requires treatment. A benign lesion is not cancerous, but may still cause medical complications which lead to treatment.
One reason to develop kidney lesions is because of kidney cancer, in which case a mass may be visible in the kidneys if a patient is given an ultrasound. Another reason can be chronic infections which lead to scarring and damage. This in turn can obstruct the drainage from the kidneys or interfere with kidney function in other ways. Scarring can also be caused by surgery, inflammation, and other processes which involve the kidneys.
In most cases, kidney lesions are diagnosed because a patient begins to experience symptoms and is evaluated by a doctor. Evaluation can include urinalysis to learn more about how well the kidneys are functioning as well as ultrasound, other imaging studies, and biopsy of the kidneys to take a sample of the kidney tissue. Identifying the cause of a lesion is important for determining a course of treatment, and for finding out whether or not treatment should be pursued at all. For some types of lesions, a doctor may recommend a wait and see and approach in which the lesions are monitored, but not treated.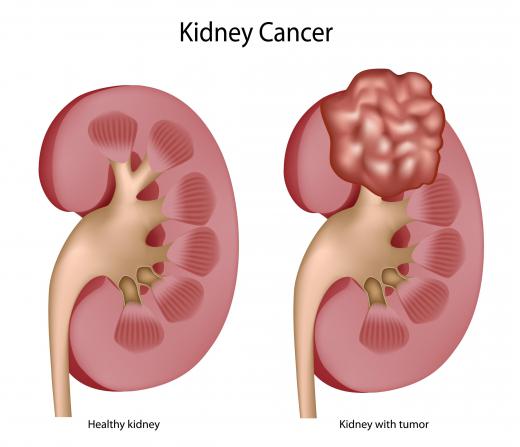 Treatment options for kidney lesions vary, depending on why they have formed. Treatments can include surgery, chemotherapy, radiation, medications, or hemodialysis to replace failing or damaged kidneys. In some cases it may be necessary to remove the kidneys altogether, in which case the patient will require a transplant of at least one working kidney from a donor. Because people can survive with one kidney, sometimes it is possible to find someone who is willing to be a living donor to provide a kidney to someone who is in immediate need of one.
AS FEATURED ON:
AS FEATURED ON:

By: Paul Marcus

A urinalysis can help determine how well a kidney is functioning.

By: Klaus Eppele

A renal ultrasound will show abnormal masses or lesions on the kidneys.

By: Alila

An example of a healthy kidney and one with tumors.

By: jeff gynane

Kidney lesions may be visible in an ultrasound.

By: Monkey Business

Chemotherapy may be necessary to treat kidney lesions.

By: Tyler Olson

Hemodialysis might be included in kidney lesion treatment.

By: maya2008

Treatment options for kidney lesions may vary.

By: tomschoumakers

Some with kidney lesions will develop symptoms like bloody urine.