What Are the Common Causes of White Saliva?
There are many different medical conditions that can alter a person's saliva color, but the most common causes of white saliva are dry mouth, certain prescription medications, and infections of the lips, cheeks, and gums. Certain digestive problems, autoimmune conditions, and a range of unrelated diseases can also include saliva white as something of a side effect or symptom. Most cases aren't serious and people often find that their saliva will return to a more normal clear consistency on its own. If things haven't improved after a day or two, or if the color change is accompanied by fever, nausea, or any other symptoms, most medical experts recommend that people seek help in order to get to the root of the problem and rule out serious conditions.
Dry Mouth
People suffering from dry mouth, known medically as "xerostomia," are some of the most prone to saliva that is white and stringy or foamy in consistency. The most common causes of dry mouth include illness, particularly colds; dehydration; and an arid, low-humidity climate. All of these conditions cause the mouth's mucus membranes to shrivel, which can rob moisture from the saliva. Saliva's main function is to lubricate the mouth and oral passages. It is made mostly of water, and when water levels are low its color can change in response. People can often fix this simply by taking in more fluids.
Medication Side Effects
A number of medications can also cause a change in saliva color, whether due to dry mouth or some other change in mucus membrane consistency. Medicines used to dry out the nasal passageways — a common goal of many cold and respiratory medications, for instance — are prime examples; certain drugs used to treat depression, high blood pressure, and diabetes may also be to blame. Sometimes these drugs will list changes in saliva as a common side effect, but not always. Anyone who wonders whether a reaction is normal should usually ask a qualified healthcare professional.
Infection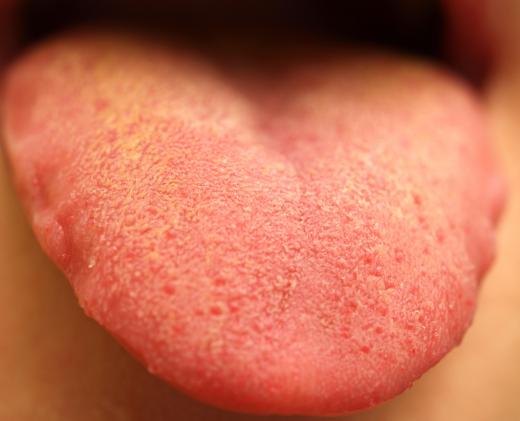 White saliva might also indicate an infection of the mouth or stomach. Candidiasis, also known as oral thrush or oral yeast infection, can make a person's tongue and saliva appear white or blotchy. An overgrowth of bacteria in stomach or throat can have a similar effect; Helicobacter pylori cultures do this relatively commonly. In very serious cases, these bacterium can cause stomach atrophy and digestive system failure, but in small amounts they often do little more than impact saliva and make it appear frothy and take on a bitter or sour taste.
Digestive Problems
Chronic acid reflux and gastroesophageal reflux disease sometimes also cause saliva changes. Opaque, white spit is most common as a person is digesting a meal that has irritated the digestive tract, and often carries a distinctive acidic taste. If it becomes too acidic, a person might even begin developing sores on the lips, tongue, or inner mouth.
Other Overarching Conditions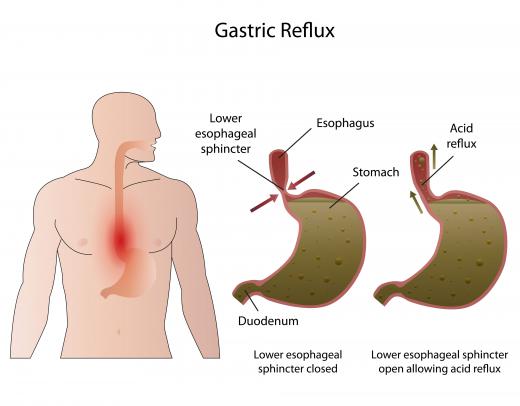 Saliva changes may be a side effect or symptom of something much larger, like organ trouble, systemic diseases, or autoimmune conditions. Sarcoidosis, a lung disease that affects the lymph nodes and other tissues, sometimes causes the oral glands to secrete frothy mucus; people suffering from lupus or rheumatoid arthritis may have similar symptoms. When a person suffers from sarcoidosis as well as an additional connective tissue disorder the condition is known Sjogren's syndrome, and dry mouth is an established side effect of this condition. In these cases changes in spit are usually some of a patient's more minor concerns, but they still serve as a sign that something is wrong elsewhere.
Treatment Options
Getting a person's saliva back to normal is often a question of treating what's wrong in the first place, be it sensitivity, infection, or some other condition. Sometimes simply restoring a person's electrolyte balance and helping them re-hydrate is all it takes, though depending on the circumstances things can be much more complicated. If things don't return to normal on their own, more investigation may be needed. Medications designed to stabilize the chemistry of the mouth and digestive tract may help in these cases.
AS FEATURED ON:
AS FEATURED ON:

By: Benicce

Dry mouth is a common cause of white saliva.

By: ACphoto

Medications for depression, high blood pressure, and diabetes can cause white saliva.

By: Adrian Costea

Saliva changes may be a symptom of a more serious health issue.

By: joshya

Helicobacter pylori may cause white saliva.

By: bilderzwerg

Chronic acid reflux can cause changes in saliva color.