What are the Most Common Penicillin Side Effects?
The most commonly reported penicillin side effects are also among the mildest. They include conditions that primarily cause discomfort, such as stomachache and nausea. There are also several previous conditions, such as kidney disease and adverse reactions to antibiotics generally, which can increase the chances of experiencing side effects. Some drugs can have an detrimental interactions with penicillin as well.
Several common and mild penicillin side effects do not require emergency care, although they should be discussed with a doctor if they become more severe or do not go away. These are also the most commonly reported effects of taking penicillin. Stomachache, nausea, rash, and vomiting are all possible effects. Patients may also notice excessive vaginal discharge or itching. Other reported symptoms include headache, a swollen, black tongue, or thrush, which is the growth of white patches inside the throat and mouth.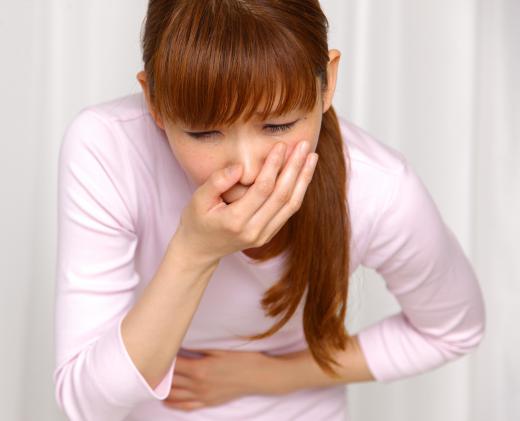 The more severe penicillin side effects should be reported to a medical professional immediately. These can include changes in the frequency of urination, bloody or watery diarrhea, and flu symptoms such as body aches, chills, and fever. An allergic reaction, which can include breathing problems, hives, and swelling in the face, is considered serious as well. Patients should also report unusual conditions of the skin, including easy bleeding or bruising and severe skin peeling, itching, or rash. Agitation, confusion, seizures, or blackouts are also possible.
Some drugs and supplements can have a dangerous interaction with penicillin and cause further adverse effects. A doctor should be informed if a patient is taking methotrexate or probenecid. As other drugs and herbal supplements may also be problematic, patients should disclose everything they are taking to the prescribing doctor.
Certain previous or current conditions can also increase the risk of taking penicillin. These should be disclosed to the prescribing doctor, as it may disqualify the patient from taking the drug or at least require more observation while it is being taken. Asthma, clotting or bleeding disorders, and kidney disease should be discussed with a doctor. The patient should also disclose any previous experiences with diarrhea as a result of taking an antibiotic.
Penicillin is an antibiotic drug. It works by killing harmful bacteria in the body that cause infections. The drug was the first medication to successfully treat several serious bacterial diseases, including staphylococcus, or staph, infections and syphilis. Though several kinds of bacteria have developed a resistance to the drug over years of use, penicillin is still commonly and successfully used to treat several illnesses.


By: chuugo

Side effects of penicillin may include body aches.

By: Farina3000

Penicillin side effects may include flu-like symptoms.

By: carla9

Nausea is a common side effect of penicillin.

By: photocrew

Penicillin is derived from the penicillium mold.

By: ohmega1982

Penicillin often causes stomachaches.

By: memo

Some patients who are prescribed penicillin experience headaches and nausea.

By: JPagetRFphotos

Diarrhea is one possible side effect of taking penicillin.