What Causes Cirrhosis of the Liver?
Cirrhosis of the liver is a condition typically caused by long-term liver damage. In a healthy liver, when damage occurs, the liver can replace its own damaged cells with healthy cells. With cirrhosis, because the liver has undergone too much damage, its ability to generate healthy cells is limited. Instead, the liver replaces damaged cells with scar tissue, which restricts blood flow and leads to buildup of bile in the liver. An uninterrupted blood flow both in and out of the liver is considered essential for the organ to perform its many functions.
Alcohol abuse is considered the leading cause of cirrhosis. The primary function of the liver is to filter toxins that enter the body through the bloodstream. When alcohol is consumed, the body treats it as a toxin, and eventually directs it to the liver. Steady consumption of alcohol can overwork the liver, causing it to be unable to generate healthy cells. Alcoholism is believed to account for the large majority of deaths related to cirrhosis of the liver.
Hepatitis is a contagious liver infection and is often the underlying cause of cirrhosis of the liver. There are three major types of hepatitis, hepatitis C being the most closely related to cirrhosis. Hepatitis B and D are also linked to cirrhosis, but are not as common as hepatitis C. There is a vaccine available for hepatitis B, and hepatitis D only occurs in patients who already have hepatitis B. Health professionals consider hepatitis C a major threat to the liver, especially in people who also drink alcohol.
Recent studies indicate that there may be a link between obesity and cirrhosis of the liver. Severe obesity can result in large deposits of fat inside the liver. This fat buildup can eventually interfere with liver function. This condition is referred to as nonalcoholic fatty liver disease (NAFLD). NAFLD is also closely associated with diabetes, artery disease and some steroid drug therapies.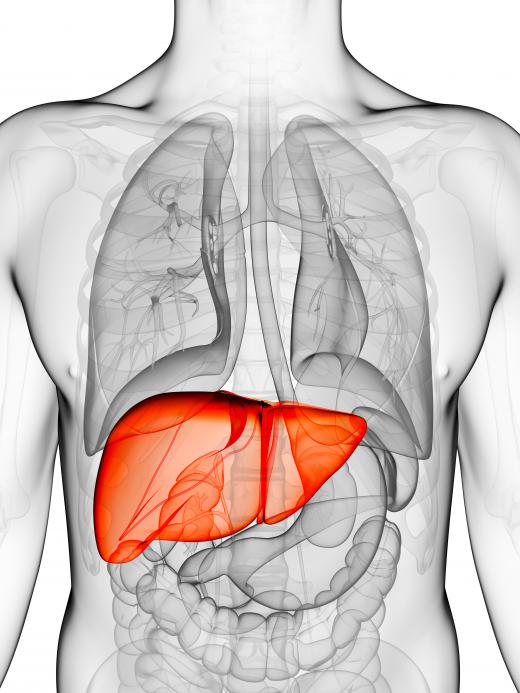 Treatment for cirrhosis of the liver can vary greatly and is usually dependent on the cause of the condition and how advanced it has become at the time it is diagnosed. If cirrhosis is detected in the early stages, it may not require hospitalization. Sometimes, changes in diet and lifestyle can limit the progression of cirrhosis. In critical or acute cases, patients may require a liver transplant to survive the condition. Symptoms of cirrhosis, which include abdominal pain, weight loss and vomiting, are often overlooked because they can apply to so many other conditions.
AS FEATURED ON:
AS FEATURED ON:

By: peterjunaidy

Several types of liver disease, including cirrhosis.

By: Joshua Resnick

Excessive alcoholic consumption can lead to cirrhosis of the liver.

By: Sebastian Kaulitzki

Hepatitis may cause cirrhosis of the liver.

By: kmiragaya

Deaths related to cirrhosis of the liver are often linked to alcoholism.

By: pixdesign123

Because the liver filters toxins and waste from the blood, if the organ fails to work properly a person can become seriously ill.