The term "floating rib" is used to refer to a specific anatomical structure and to a disorder which could better be termed a "slipped rib." Both, as one might imagine from the name, involve the ribs, curved bones found in vertebrates. The ribs are attached to the spine and a structure called the sternum, creating the rib cage, a protective casing for vital organs such as the heart and lungs.
In the case of an anatomical structure, a floating rib is a rib which is attached to the spine, but not the sternum. Most people have floating ribs, with the 11th and 12th pairs of ribs being floating ribs. In some people, there are three pairs instead of two, and other individuals only develop one set of floating ribs. Floating ribs are entirely normal and nothing to be concerned about, and although they are not attached to the sternum, they aren't exactly floating around in the body cavity; numerous attachments usually keep the floating ribs more or less in place.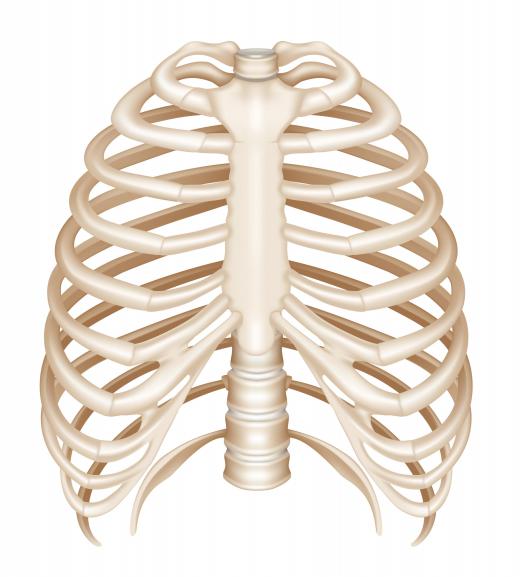 The function of the floating ribs is not fully understood. A floating rib could theoretically provide some protection to the contents of the abdominal cavity, but it isn't as necessary as the ribs which are attached to the sternum. The "false ribs," as they are known, may be vestigial leavings of an earlier stage in human evolution. Evidence suggests that people have also been able to train their floating ribs into new positions, as seen in women who wear corsets for a prolonged period of time.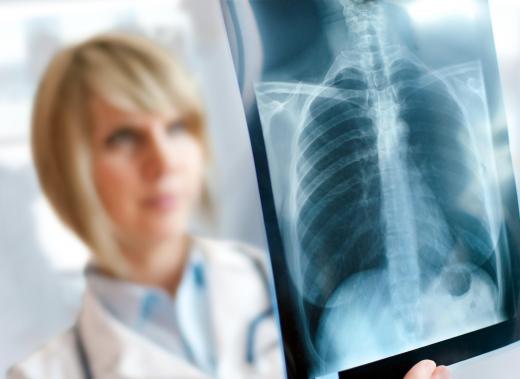 In some cases, a floating rib can cause problems for its owner. These ribs can slip out of position, putting pressure on internal organs, and they can also be broken as a result of trauma, causing considerable pain and putting the patient at risk for infection.
The disorder sometimes referred to as floating rib syndrome and better known as slipped rib syndrome occurs when a rib becomes dislocated, slipping out of its socket. Patients tend to experience considerable pain with this condition, which is usually a result of trauma, and it can be readily identified with a physical examination or medical imaging study of the area of interest. As with other rib injuries, the best treatment is usually partial immobilization, achieved by wrapping the ribcage tightly so that the rib cannot drift while it heals, but not so tightly that it cannot expand as the patient breathes.
How Long Before a Damaged Floating Rib Heals?
On their own, broken or damaged ribs take about six weeks to heal. The timeline is contingent upon a patient following a strict regimen of limited movement and reduced activities. If a patient with a broken floating rib participates in strenuous physical activities, the risk of further injury is high. 
In the worst cases, damaged ribs rip from the cartilage. Such injuries are much more extensive and take longer to heal completely. It usually takes at least 12 weeks before severely damaged ribs will heal. 
More minor injuries, such as a bruised rib, are treated the same way as a broken rib but won't take nearly as long to heal. A bruised floating rib should generally heal within three to six weeks, depending on the patient's activity. 
Patients suffering from slipped rib syndrome typically heal in about one to two weeks, depending on their treatment. A simple misalignment will take even less time to heal. 
Can Floating Rib Cause Other Pain?
It'sIt's not uncommon for patients with a floating rib or slipped rib syndrome to experience pain in other parts of the body. Chest and back pain, usually severe, are two of the most common radiating pains a patient might experience. 
Slipped, loose, or damaged ribs can pinch intercostal nerves, critical for sending sensory information from the somatic nervous system. The information received is essential for muscle contraction and much more. 
When these intercostal nerves are pinched, excruciating pain can develop in the chest and the back. The pain is rarely associated with internal damage to a patient's back or chest. But it can reach intense levels that are difficult to overcome without medical intervention. 
Other areas that could potentially be impacted by slipped rib syndrome include:
Upper abdomen
Lower chest
Posterior
Another likely symptom of floating rib or slipped rib syndrome is extreme difficulty breathing. Deep breathing becomes nearly impossible, and simple activities like driving and stretching may cause severe pain. 
Sleeping with a Slipped Rib
Getting plenty of sleep when a body is healing is essential, but it's also easy to get hurt worse in the unconscious hours of the night. Sleeping with a broken or damaged bone is never easy to navigate. There are always extra precautions that patients need to take at night to ensure they don't aggravate further damage.
Sitting upright is the best way to sleep with an injured floating rib or slipped rib syndrome. If a patient has received treatment and their ribs are properly wrapped, the easiest way to sleep comfortably and without risk of further injury is upright. Usually, a recliner is the best place, as it helps the patient maintain a straight spine. 
Sleeping upright or propped up in bed is another way that patients can sleep more comfortably with a slipped rib. Patients will likely find sleeping in a slightly reclined position with support pillows under the back more comfortable than sleeping flat or on the side. 
Can a Chiropractor Fix Floating Rib Problems?
Chiropractors are fully capable of treating dislocated, subluxated, or otherwise injured ribs. If a patient has a floating rib that has slipped out of place, a chiropractor may be able to fix the problem by realigning the rib or popping it back into place. 
The relief from having a slipped rib returned to the correct position is immediate. If a patient suffers from a chronic problem of a floating rib slipping out of place, a chiropractor may be able to provide more long-term care that is less invasive or dependent on pain medication. For patients looking for a more natural remedy, chiropractors can help. 
Putting a Floating Rib Back in Place
A chiropractor can use specific techniques to get a slipped floating rib back into the proper place. It typically involves gentle, firm pressure that forces the rib back. The patient will likely have a wrap to stabilize the area after treatment and allow for complete healing. 
After treatment, a patient may receive a regimen of stretches and exercises that will help keep the rib from slipping again. 
Symptoms of a Slipped Floating Rib
There are a few common symptoms that indicate a floating rib has slipped out of place:
Severe pain in the chest, abdomen, and back
Radiating pain
Popping or clicking sound in the ribcage area
Pain from pressure to the area
Pain from basic movements
Patients who experience pain when laughing, turning, bending, or coughing could have a floating rib out of place. Pain associated with these movements is a standard indicator of a slipped rib.
AS FEATURED ON:
AS FEATURED ON:

By: Jaeeho

A picture of a ribcage, with floating ribs at the bottom.

By: creo77

A chest X-ray can be used to detect problems with a floating rib.

By: pixdesign123

The rib cage includes 12 pairs of ribs, the sternum and 12 vertebrae.