What Is Hemosiderin Staining?
Hemosiderin staining is the development of patches of brownish to yellow deposits just under the skin. It usually occurs as a byproduct of the breakdown of red blood cells, and patients can develop such deposits in the wake of surgery or hemorrhage. These patches also occur as a result of heart failure, vascular insufficiency, and other cardiovascular diseases.
The deposits are the result of a buildup of a compound used by the body to store iron. The compound can vary in color from yellow to brown and might look like a cloud or bruise just under the surface of the patient's skin. The development of these patches might be a cause for concern, because it could indicate that a patient's condition is progressing or is not responding well to treatment. Care providers are often alert to the development of hemosiderin staining, bruising, and other discolorations.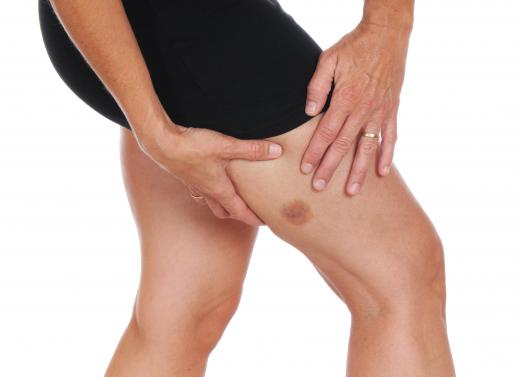 Immediately after surgery, patients might notice some staining during the healing stages. Their bodies will eventually break down the compound and recycle it, clearing the stains and leaving the skin unblemished again. The length of time required to allow the stains to dissipate can vary, and more extensive surgeries usually result in more prolonged staining, because of the large volumes of blood involved.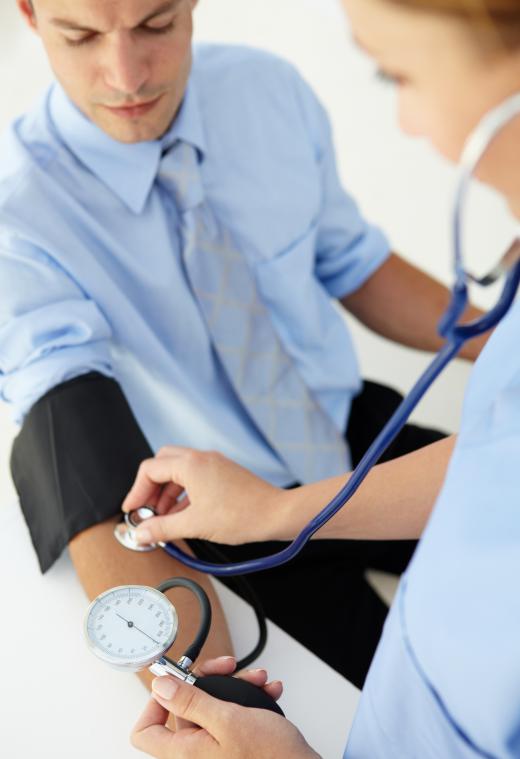 Patients who have cardiovascular disease can develop hemosiderin staining as a result of leaking blood under the tissue. The stains might be a cause for concern, because they indicate that the disease is growing worse or that the patient is experiencing a flareup of disease. A medical professional might evaluate the problem and can take pictures for reference. This might be important later when the healthcare provider wants to determine whether stains are growing or shrinking over time.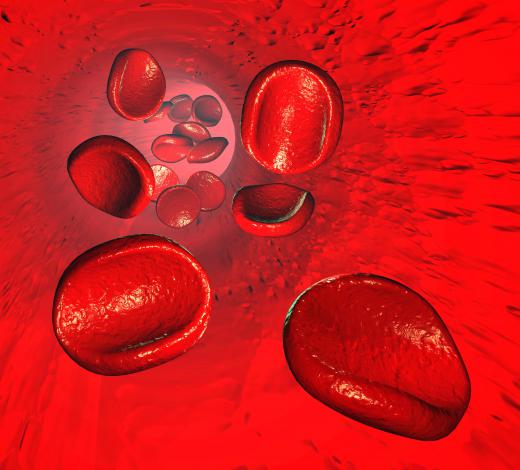 These stains can also be a sign of high blood pressure, caused when the blood vessels might start to leak from the intensity of the pressure. Treatment for the stains requires getting the blood pressure down and supporting the body so it can start to clear the compound away. If the patient does not receive treatment, other complications might arise.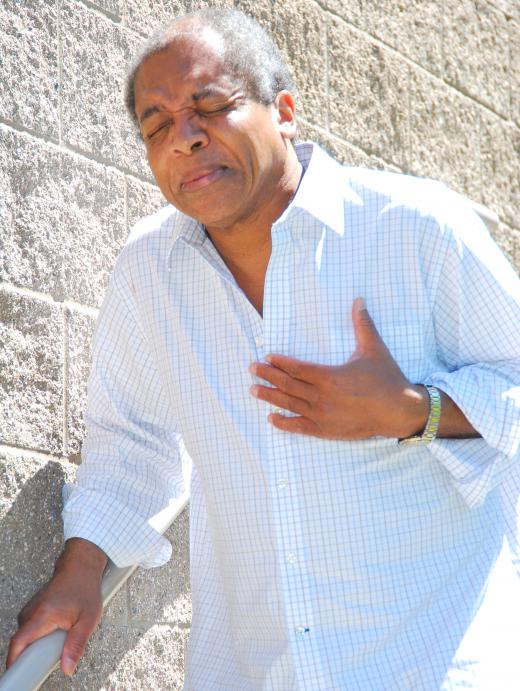 Patients who notice hemosiderin staining should discuss it with a medical professional. If the patient has recently had surgery or physical trauma that led to hemorrhage, the healthcare provider might consider the stains normal. In cases when patients do not have a history of medical issues that might explain the stains, a diagnostic evaluation might be necessary to find out what is wrong.
How Does Hemosiderin Buildup?
Red blood cells (RBCs) contain a protein called hemoglobin which is responsible for transporting oxygen. Breakdown of red blood cells causes the conversion of hemoglobin into another pigment called hemosiderin, an iron-containing protein.
Immune cells (white blood cells) are capable of clearing the excess iron (in any form) released into the skin. When the white blood cells are unable to get rid of the storage iron, it accumulates in the skin leading to hemosiderin staining. Hemosiderin staining can occur anywhere on the body but typically develops on the lower legs.
Skin Pigmentation vs. Staining
You can be exposed to discoloration and pigmentation disorders that can change your skin appearance. Commonly occurring pigmentation disorders include birthmarks, macular stains, port wine stains, and vitiligo. 
Changes in skin coloration may also be linked to serious life-threatening conditions such as hemangiomas and melanomas (cancers). 
However, it should be clear that pigmentation and staining are different entities with different underlying causes. Staining is the appearance of colored patches on the skin due to some underlying issue. One such type of discoloration is hemosiderin staining.
Other Causes of Hemosiderin Staining
Other conditions that may lead to the accumulation of iron deposits beneath the skin include: 
Diabetes 
The chronic illness can directly impact the erythrocytes (RBCs, which can manifest the changes in the form of hemosiderin staining. According to a study, long-standing hyperglycemia has a negative impact on the kidneys, blood vessels, and erythrocytes. 
The red blood cells are prone to breaking under the effect of hyperglycemia. This breakdown causes the release of hemosiderin and consequent staining of the skin.
Venous Pathologies 
Another major cause of hemosiderin staining is venous insufficiency. Chronic venous insufficiency (CVI) is a condition in which there is a weakening of the valves in the veins (of legs). That leads to a pooling of blood in the legs and feet. 
Many patients with chronic insufficiency complain of leg swelling, pain, and skin discoloration. A study investigating the nature of skin pigmentations in chronic venous insufficiency patients found that hemosiderin has a significant role to play. 
Melanin (skin pigment) was seen in the skin of CVI patients. Hemosiderin accumulation evolved the skin towards a condition called lipodermatosclerosis.
Other conditions that can lead to the accumulation of hemosiderin in the skin include venous hypertension and venous ulcers. 
Can Hemosiderin Staining Be Dangerous?
The staining itself is not a serious condition; however, the underlying cause of staining can be dangerous. Changes in the color of skin might be linked to poor circulation too. 
If due to underlying heart pathology, diabetes, or venous insufficiency, hemosiderin staining can have serious complications. 
Certain conditions such as lipodermatosclerosis also present in a similar fashion. Therefore, healthcare professionals must make sure to diagnose the exact underlying cause.
Treatment 
The condition will subside on its own if staining is due to trauma/skin injury (that causes hemorrhage) or surgery. However, hemosiderin pigments due to heart disease and venous insufficiency do not resolve on their own and may require treatment. 
Symptomatic management of the stains can be done using topical creams and gels. Commercially available creams/gels may not be able to remove the entire discoloration patches but help in preventing the darkening of stains over time. To lighten your hemosiderin staining, you can apply skin creams that contain hydroquinone. 
Modern laser therapies can also help improve your aesthetic appearance. The results heavily rely on the extent of staining. 
Decalcifying solutions can also help lighten the iron/hemosiderin staining.
What Kind of Doctor Treats Hemosiderin Staining?
As hemosiderin is an outcome instead of the disease itself, different doctors can manage it. If the staining is due to surgery, the surgeon can guide and manage it. However, a cardiologist can best treat the staining in your skin if the issue is due to cardiovascular pathologies. 
Symptomatic management of the staining is usually done by a dermatologist. A dermatologist may use intense pulsed light (IPL) to reduce the stains. Laser treatment of stains and discolorations is also very common nowadays. 
Is Hemosiderosis Linked to Hemsoiderin Staining?
Hemosiderosis is a condition characterized by a lot of bleeding (hemorrhage) that occurs inside the lungs. The bleeding leads to the breakdown of hemoglobin and consequent accumulation of iron in the lungs. This condition can be present at birth or early childhood (primary hemosiderosis) or develop as a result of diseases such as Goodpasture syndrome, Heiner syndrome, and Idiopathic hemosiderosis. 
Though hemosiderosis is characterized by excessive build-up of hemosiderin in the lungs, the condition is different from hemosiderin staining.
AS FEATURED ON:
AS FEATURED ON:

By: PeJo

A hemosiderin staining may look like a bruise just beneath the skin.

By: Monkey Business

Hemosiderin staining could be a sign of chronic hypertension.

By: Dmitry Sunagatov

Hemosiderin staining usually occurs as a byproduct of the breakdown of red blood cells.

By: oscar williams

Patients who have cardiovascular disease may develop hemosiderin straining.