Macular edema is an eye condition characterized by a buildup of fluid in the macula, an important area of the eye located in the middle of the retina. The macula is packed with a dense array of cones, the photoreceptors in the eye which respond to color. Damage to the macula can impair someone's vision, making this condition a cause for concern among ophthalmologists. There are a number of treatment options, depending on the cause of the condition and the patient's history.
This condition occurs when blood vessels in the eye start to leak fluid, allowing fluid to build up in the macula. This fluid causes the macula to swell and thicken, leading to blurred and distorted vision. The eye cannot express the excess fluid, and the condition will get worse if it is not treated.
One very common form of the condition is diabetic macular edema, a complication of diabetes which occurs in around 10% of diabetes patients. Patients who have poorly controlled diabetes are more at risk. Treatment for this form can include focal laser treatment which is designed to slow or stop the leaking, a vitrectomy in which the vitreous humor is removed from the eye surgically to reduce the swelling, and the use of anti-inflammatory drugs to prevent inflammation in the eye.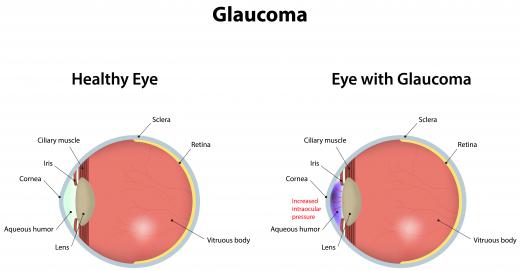 Macular edema can also occur after eye surgery or trauma, often in the form of cystoid macular edema, in which small pockets of fluid form in the eye. Vitrectomy and anti-inflammatories can be used to treat this form of the condition. Many eye diseases such as retinal occlusion and uveitis can also lead to macular edema, and people with chronic eye conditions should make sure that their eyes are checked regularly for any signs of swelling in the macula so the condition can be addressed early if it does appear.
Once a patient has a history of this problem, it can tend to recur, especially if the underlying cause is not addressed. Diabetes, for example, can lead to progressive bouts of macular edema which can eventually lead to severe eye damage or blindness. For this reason, it is important to get regular eye exams to look for any signs of abnormalities or emerging problems. The sooner eye problems are addressed, the better the prognosis. Patients should also report any vision changes or irregularities to their doctors, even if the changes do not seem very important.
AS FEATURED ON:
AS FEATURED ON:

By: blueringmedia

Macular edema can occur after eye surgery.

By: joshya

Macular edema can be caused by glaucoma.

By: JackF

Many eye diseases can lead to macular edema.

By: bellemedia

A buildup of vitreous fluid in the eyes can cause blurred or distorted vision.

By: fred goldstein

People who experience vision changes and irregularities should consult an eye care professional.

By: Peter Orsaeo Sr

Macular edema often occurs after eye surgery.

By: dalaprod

Diabetic macular edema can be a complication of diabetes.