What Is the Difference between Lisinopril and Metoprolol?
Lisinopril and metoprolol are both medications that treat high blood pressure. The main difference between lisinopril and metoprolol is that lisinopril is an angiotensin-converting enzyme (ACE) inhibitor while metoprolol is a beta blocker. As they are two different types of medications, lisinopril and metoprolol each help control high blood pressure through different means. Other differences between lisinopril and metoprolol include dosage, additional medical conditions they treat, and safety issues for pregnant or breastfeeding women.
High blood pressure is a medical condition in which the heart pumps blood with too much force through the arteries. An ACE inhibitor lowers blood pressure by preventing the body from producing a substance called angiotensin II. Angiotensin II makes the heart work harder and causes high blood pressure because it narrows blood vessels. A beta blocker, on the other hand, lowers blood pressure by blocking the effects that epinephrine has on the body. By blocking epinephrine, or adrenaline, a beta blocker enables the heart to beat at a slower pace, and less forcefully as well.
Lisinopril comes in tablet form and the usual prescription is to take it once a day. In addition to high blood pressure, lisinopril is also helpful in treating heart failure, when combined with other medications. Metoprolol also comes in tablet form, as well as in extended-release tablet form, with a usual prescription for the tablet being once or twice a day, and the extended-release tablet being once a day; the extended-release tablet is designed to allow the medication to release slowly into the body over a period of time, so the medication stays in the system longer. Unlike lisinopril, metoprolol needs to accompany or follow a meal. Other medical conditions that metoprolol helps treat include chest pain, heart failure and irregular heartbeat.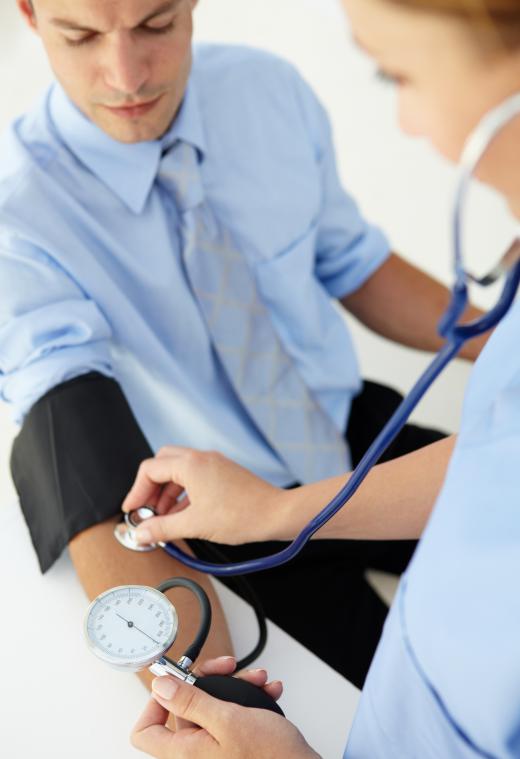 Pregnant or breastfeeding women should not use lisinopril. In pregnant women, lisinopril can cause the baby to have birth defects. It is not known whether lisinopril is found in breast milk, but as pregnant women should not take the medication, it is the usual recommendation that breastfeeding women not take it as well. As for metoprolol, pregnant or breastfeeding women should only take the medication if their doctor recommends it; it will depend on their condition and if it will be beneficial to the mother. This is because it is not known whether metoprolol has a negative effect on unborn babies.


By: michaeljung

Lisinopril and metoprolol are used to treat high blood pressure.

By: Monkey Business

Metoprolol should be taken during or following a meal.

By: Dmitriy Melnikov

Breastfeeding women should not use lisinopril.

By: Monkey Business

In the United States, metoprolol is marketed and sold under the brand names Toprol-XL and Lopressor.

By: Radek Sturgolewski

A woman who is pregnant should consult her obstetrician before taking metoprolol or any other medication.

By: Alexandr Mitiuc

Lisinopril is a medication that blocks certain enzymes in the body responsible for blood vessel restriction.