Blood dyscrasia typically refers to a blood disorder where one part of the blood is not present in normal supply. The different constituents of blood like platelets, or white or red blood cells could be too high or too low in counts. It's worth noting that sometimes the blood disease has to do with interference in the way blood normally works, such as in clotting diseases caused by missing proteins, like in von Willebrand's disease, where needed proteins to cause blood clotting are not available as normal. Thus, when abnormal function of blood or its components is present, people are thought to have a blood dyscrasia, and dyscrasia can be thought of as synonymous with disease.
There are many different types of this condition. As mentioned, von Willebrand's disease occurs when there are poor amounts of the proteins that form blood clots. Another serious illness like this is hemophilia. Similar to blood clotting diseases affecting proteins are those that affect the platelets. Various forms thrombocytopenia or low platelet count can cause serious decrease in platelet production, which may also result in excessive bleeding. Thrombocytopenia can be induced by treatments like chemotherapy or by illness, and it can occasionally be a congenital condition.
Blood dyscrasia can refer to diseases that affect white blood cells. Some of these are extremely serious, like leukemia. A blood disorder of this type may need a variety of interventions in order to try to produce cure, and very serious forms of leukemia can be difficult or impossible to treat.
Other forms of this conditions are found in red blood cell diseases. Sickle cell anemia is one of these, and is a painful and difficult condition that can affect children early on. Many different types of anemia are discrasias. A person could have mild anemia or a low red blood cell count as a result of serious bleeding, for example hemorrhaging. Alternately, some lifelong conditions interfere with the appropriate production of red cells and may need to be treated by various means.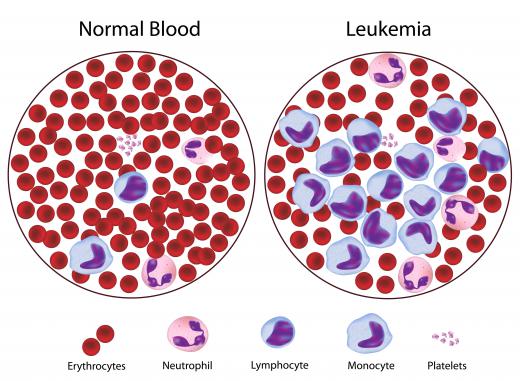 Given the different types of blood dyscrasia or the many expressions of blood diseases, discussion of treatment or outcome is challenging. A transient disorder might be fixed easily, and a lifelong disorder may have treatment that is of use. Usually the only way to determine how to address a blood disorder is to see a skilled physician, have blood levels tested and with that, the physician make determinations on best treatment. Treatments could include medicines, transfusion of blood products, chemotherapy, or even bone marrow transplant, but it all depends on what dyscrasia is present.
AS FEATURED ON:
AS FEATURED ON:

By: JackF

Physicians may be the best source for patients wondering how to address a blood disorder.

By: Alila

Samples of blood from a healthy person and one with leukemia. Leukemia is a form of blood dyscrasia.

By: apple1

A diagram showing different types of white blood cells. Blood dyscrasia can refer to diseases that affect white blood cells.

By: Alexandr Mitiuc

Diseases that impact red blood cells are forms of blood dyscrasia.

By: bst2012

Individuals who have disorders that affect the number or function of red blood cells may experience fatigue.