What is Gallbladder Gangrene?
Gallbladder gangrene is death of part of the gallbladder caused by inflammation or infection associated with gallstones. It can be a life-threatening medical emergency and the patient needs surgery to treat the infection before it has an opportunity to spread. In surgery, a doctor will remove the gallbladder and any neighboring dead or diseased tissue. The patient should make a full recovery if the condition is caught in a timely fashion.
This condition arises in patients with untreated cholecystitis, where the gallbladder develops inflammation. This usually occurs because of gallstones, small deposits of material inside the gallbladder, although sometimes it happens independently. The tissue of the gallbladder starts to die, causing the patient to experience cramping, bloating, and severe abdominal pain. If the gallbladder gangrene is not treated, an infection may arise, and the patient can develop a systemic infection, where bacteria circulate freely through the bloodstream.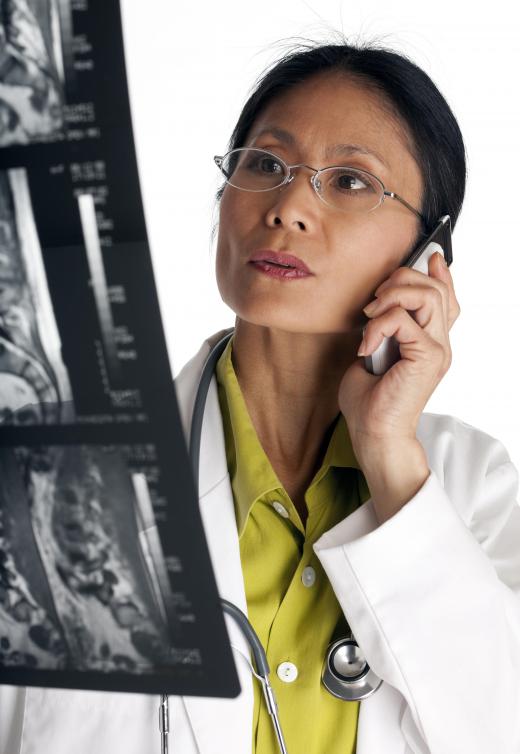 Several clues can help a doctor identify gangrene. The physical symptoms may lead a doctor to recommend medical imaging studies of the abdomen, where the dead tissue will be visible. Bloodwork can also reveal signs of inflammation and infection. If the doctor believes a patient has gallbladder gangrene, the recommendation is usually immediate surgery to take the organ out. The patient may not be stable enough for surgery if severe infection has set in, in which case the doctor will treat the patient with aggressive antibiotics with the goal of quelling the infection so a surgeon can operate.
During the recovery phase, the patient will need to take medications to prevent infection and address the inflammation. Dietary modifications may also be necessary. As the patient recovers, the diet can return to normal and a patient can undergo blood tests to check for high white blood cell counts and other warning signs of infection. It is important for patients in recovery to report fevers, pain, and other symptoms of infection.
Patients with gallbladder problems, particularly people with underlying diseases like diabetes, benefit from immediate treatment. More treatment options will be available before the inflammation progresses to the point where gangrene can occur. Seeking prompt treatment for abdominal pain and tenderness, bloating, and digestive problems can help people avoid serious complications and invasive surgical procedures to treat severe medical problems. Failure to receive treatment in time can expose people to the risk of more serious complications, including death if no treatment is made available.
AS FEATURED ON:
AS FEATURED ON:

By: edbockstock

Medical imaging tests may be conducted to diagnose gallbladder gangrene.

By: krutoeva

Antibiotics may be prescribed during the recovery phase of gallbladder gangrene.

By: ruigsantos

Blood work may be performed to diagnose gallbladder gangrene.

By: pixelcaos

Gallstones may cause gallbladder gangrene.

By: derege

Gallbladder gangrene typically requires emergency surgery.

By: photoillustrator.eu

Gallbladder gangrene can cause severe abdominal pain, particularly in the right upper quadrant.

By: roblan

Gallstones are hardened deposits of bile.