What is Vitamin B6 Toxicity?
Because of the concern about ingesting enough vitamins and minerals for their daily needs, many people opt to take supplements. Sometimes, this can cause an overdose of certain vitamins and minerals. One such overdose, vitamin B6 toxicity, can result in painful symptoms and bodily harm.
An overdose of a certain vitamin or mineral is known as a megadose. A megadose of vitamin B6 can occur when a person ingests more than 0.012 ounces (500 milligrams) of the compound. This usually happens when the vitamin taker is using a supplement known as pyridoxine, which may be ordered by a medical professional to treat conditions such as premenstrual symptoms and carpal tunnel.
Vitamin B6 toxicity symptoms can range from mildly irritating to harmful. Patients may experience headaches, irritability, or fatigue. Depression can result from more severe damage. In the most severe cases, nerve damage and disorders can also develop, which may result in body imbalance and loss of sensation in the legs.
Numbness in hands and feet, poor coordination, loss of sensitivity to touch, and difficulty walking can also result. People who get too much vitamin B6 may lose their sensation to vibration or temperature as well. Usually, this type of symptom occurs after high doses are ingested for a long period of time. In cases this serious, patients may experience fatigue or general tiredness for up to six months.
In order to receive a diagnosis of vitamin B6 toxicity, a person should consult with a medical professional. Clinical tests will be administered to determine whether or not toxic levels of the vitamin are present. In order to alleviate the problem, the patient will be instructed to stop taking vitamin B6.
If patients have developed severe problems, they may never fully recover. For those who do recover, it is a slow process. To prevent this toxicity from occurring, it is recommended that adults ingest no more than 0.007 ounces (200 milligrams) of the vitamin daily.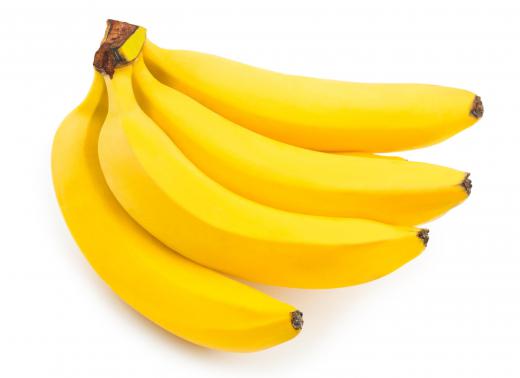 Pyridoxine is a water soluble B-vitamin, and it is one of eight different vitamins in the B group. A coenzyme, it serves to help protein and carbohydrates metabolize in the body. It is important in the body's production of red blood cells, white blood cells, and insulin. It is also used in various body processes, including central nervous system function, neurotransmitter functions, energy production, maintaining muscle and nerve cells, and immune system actions, as well as helping to produce DNA.
AS FEATURED ON:
AS FEATURED ON:

By: Valua Vitaly

An individual with vitamin B6 toxicity may experience numbness in hands and feet.

By: Eléonore H

Fatigue may be a symptom of vitamin B6 toxicity.

By: Nikolai Sorokin

Bananas are a good source of vitamin B6.

By: Picture-Factory

Headaches are a symptom.

By: Alliance

People with toxic levels of vitamin B6 may exhibit symptoms of irritability and depression.